Marvel's 'Doctor Strange' On Track To Open Bigger Than 'Ant-Man'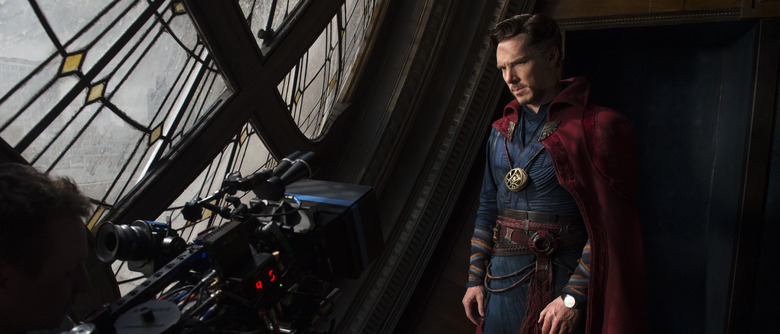 Eight years and over a dozen films in, the Marvel Cinematic Universe is about as reliable as movie franchises get. They're very often among the top grossers of the year, and reliably draw positive reactions from critics, hardcore fans, and casual moviegoers alike. At this point, you'd have to be a fool to bet against them.
Still, Doctor Strange presents a bigger challenge than many Marvel films. It's not a sequel, but an all-new adventure, featuring characters who are largely unknown to the general population. Can Doctor Strange keep Marvel's winning streak going, or will it be their first stumble? We'll find out for sure in a couple of weeks, but for now we're happy to report that early tracking suggests Doctor Strange will be just fine. At the very least it's likely to top Ant-Man, the last new superhero to come out of the MCU. 
The Hollywood Reporter has a look at the Doctor Strange box office tracking numbers. According to the services and experts they consulted, Doctor Strange is expected to open somewhere between $50 million and $70 million in North America. Most believe Doctor Strange will beat Ant-Man's $57 million opening weekend from last summer, and one of the services has an even more optimistic projection of $64 million or higher.
Marvel has launched about a half-dozen sub-franchises within the great Marvel Cinematic Universe, with more to come over the next few years, and they've proven especially adept at turning previously unknown characters into household names. Iron Man had nowhere near the name recognition of, say, Batman or Spider-Man when his first film hit in 2008, but it still managed to pull in $98 million in its first weekend of domestic release. And the studio managed to turn the Guardians of the Galaxy — a relatively obscure property even to most comics fans — into A-list stars. Their movie's $94 million opening was an August record until Suicide Squad beat it out earlier this year.
The first Captain America and Thor films opened a little softer, with about $65 million each, but both improved their performances in subsequent installments. Ant-Man's $57 million premiere weekend is among the lowest for an MCU film. (Only 2008's The Incredible Hulk, a movie Marvel has all but forgotten existed, opened lower, with $55 million.) If Doctor Strange ends up in the predicted range, it'll be a decent-but-not-great start for Marvel's next leading superhero.
Of course, the release date is still a few weeks out so Marvel's still got the final marketing push ahead. In the past couple of weeks we've seen them really lean into the weirder, trippier side of the story, so it should be interesting to see what else they've got in store for us. Directed by Scott Derrickson and starring Benedict Cumberbatch, Doctor Strange opens November 4.