Quentin Tarantino Is Researching 1970 For His Next Project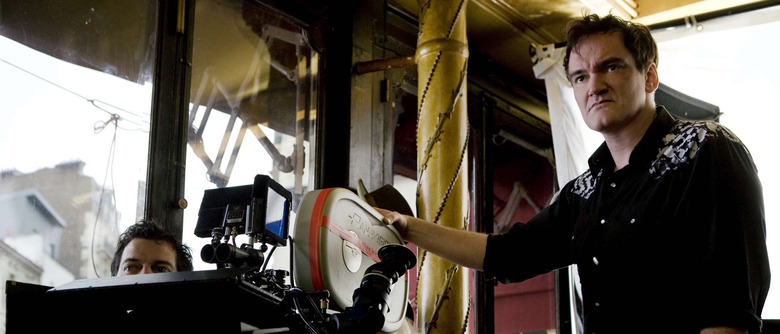 Filmmaker Quentin Tarantino revealed that he'd spent the last four years doing research about the 1970's for an upcoming project. That's not surprising, but what might shock you is that the Quentin Tarantino 1970 Project is probably not going to be a movie.
Tarantino teased at the Lumière Festival in Lyon that the upcoming project may turn out not to be a movie:
"Am I going to write a book? Maybe. Is it going to be a six-part podcast? Maybe. A feature documentary? Maybe. I'm figuring it out."
It's no surprise that Tarantino is looking toward the 1970's as anyone can see the filmmaker is highly influenced by the decade. But the fact that he may be doing something based on the time period that isn't a film is rather surprising. This is the first time he's mentioned the project publicly. For this year's
As for what exactly he is looking at, the director cited Mark Harris' book "Pictures At A Revolution: Five Movies And The Birth Of The New Hollywood" as one of the things he is currently working his way through.
"New Hollywood was the Hollywood and anything that even smacked of Old Hollywood was dead on arrival. The more I started going to the library and looking up newspaper articles of what it was like, I realized New Hollywood had won the revolution but whether it would survive wasn't clear. Cinema had changed so drastically that Hollywood had alienated the family audience. ... Society demanded (the Hollywood new wave) but that doesn't mean that they supported it as a business model and it made me realize that New Hollywood cinema from 1970-76 at the very least was actually more fragile than I thought it was. That experiment could have died in 1970.
Tarantino seems to be interested in Hollywood's artistic shift, watching movies, reading reviews and think pieces from that decade.
'What's wrong with movies?' 'Movies have become scary,' 'Can Hollywood survive. There were a lot of promises made of possibilities of a new cinema. It was almost like, could Hollywood handle this kind of freedom? Could the public handle it? The freedom seemed limitless. Directors could adapt any book, could shoot anything. There were no restrictions and that was maybe untenable."
The 1970's is a fascinating time for the film business, and many people look at it as the glory days when filmmakers were treated like artists who were given the reign to explore original and exciting ideas. I'm not sure what Tarantino is planning, and knowing the filmmaker we might not find out for many years down the line — he often likes to take his time. I'd love to see someone like Ken Burns explore the decade in the same expansive style that he has for other documentary series.
For this year's festival, Tarantino curated 14 films from 1970 which include Arthur Hiller's Love Story, Dario Argento's The Bird With The Crystal Plumage, Claude Chabrol's The Butcher, Billy Wilder's The Private Life Of Sherlock Holmes, Bob Rafelson's Five Easy Pieces, Jack Nicholson's Drive, He Said, Russ Meyer's Beyond The Valley Of The Dolls, and Robert Altman's MASH.