LOL: Anna Kendrick Wants To Join Ben Affleck's 'The Batman' As Robin (Or Batman)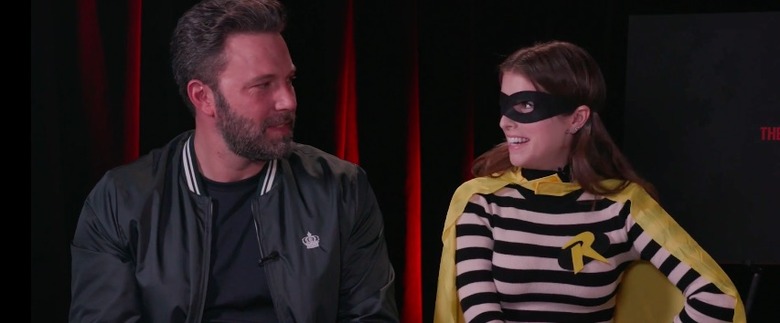 The internet may be clamoring for Anna Kendrick to play Marvel's Squirrel Girl, but it looks like the Oscar-nominated actress has her eye on a different superhero project. Kinda. You see, Kendrick stars in this weekend's The Accountant with Ben Affleck, who just so happens to be the star and director of that Batman solo movie we keep hearing about. In a funny new video, Kendrick tries to convince Affleck to cast her as Robin in the upcoming film. Or Batman, she's not picky.
Watch the Anna Kendrick Batman video below. 
Kendrick and Affleck are clearly just goofing around with MTV here, but there is precedent for a female Robin. Affleck's Batman is clearly influenced by Frank Miller's The Dark Knight Returns, which featured a plucky sidekick, i.e., a Robin, in the form of teenage girl Carrie Kelley. Kendrick's on her own with the whole "female Batman" thing, though, no matter how huffily she compares Affleck to a certain presidential candidate. "It is 2016, and I don't know need this patriarchal bullshit from either of you," she retorts. "Do I not have the stamina? Do I not have the look, Mr. Trump?"
... And then Affleck has to go and make it weird by explaining his childhood obsession with Annie and his recently thwarted dream of starring in Pitch Perfect. You know, I guess the joke here is that it would be hilarious to see Affleck in a musical about a college a cappella group, but I'm not gonna lie, I'd watch the crap out of a Pitch Perfect 3 starring a singing, dancing Ben Affleck. Or, for that matter, a The Batman starring Anna Kendrick, as either Batman or Robin. Is there any way to turn both of these actors' dreams into a reality, please?
In the meantime, I guess we can settle for seeing them together in The Accountant, directed by Gavin O'Connor and out this Friday, October 14.