Exclusive 'Miss Hokusai' Clip Reveals A Gorgeously Animated Coming-Of-Age Tale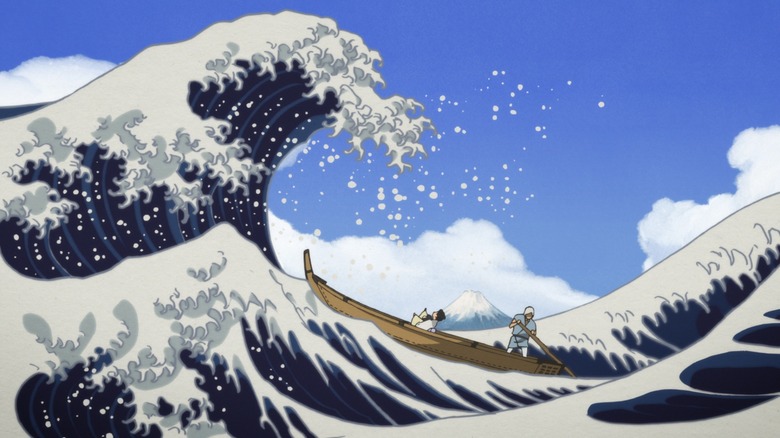 Even if the name Hokusai doesn't ring a bell, you're definitely familiar with his work. He's the artist behind The Great Wave off Kanagawa, perhaps the most famous work in Japanese art history — you've seen the image in museums and books and gift shops and dorm room posters. But he's not the real subject of Miss Hokusai. Instead, the new animated feature from GKIDS centers on O-Ei, his daughter and apprentice and an artist in her own right.
Directed by Keiichi Hara, Miss Hokusai unfolds in a magical realist version of 19th century Japan. Hokusai is already a man of great reputation, but he's not working alone. O-Ei is the real hand behind many of the works credited to him, and she also cares for her blind younger sister O-Nao when she's not helping out her father. This movie isn't one for the kids — the film doesn't gloss over the fact that Hokusai was also known for his erotic art, including the iconic The Dream of the Fisherman's Wife — but adults might find a lot to admire about this gorgeously animated coming-of-age tale. We're happy to debut an exclusive Miss Hokusai clip, which you can see below.
Miss Hokusai arrives in select theaters this Friday, October 14.
From award-winning director Keiichi Hara (Colorful) and Japanese powerhouse Production I.G (creators of Ghost in the Shell) comes a remarkable story of the daughter behind one of history's most famous artists. As all of Edo flocks to see the work of the revered painter Hokusai, his daughter O-Ei toils diligently inside his studio. Her masterful portraits, dragons and erotic sketches — sold under the name of her father — are coveted by upper crust Lords and journeyman print makers alike. Shy and reserved in public, in the studio O-Ei is as brash and uninhibited as her father, smoking a pipe while sketching drawings that would make contemporary Japanese ladies blush. But despite this fiercely independent spirit, O-Ei struggles under the domineering influence of her father and is ridiculed for lacking the life experience that she is attempting to portray in her art. Miss Hokusai's bustling Edo (present day Tokyo) is filled with yokai spirits, dragons, and conniving tradesmen, while O-Ei's relationships with her demanding father and blind younger sister provide a powerful emotional underpinning to this sumptuously-animated coming-of-age tale.