Scott Derrickson Answers Your 'Doctor Strange' Questions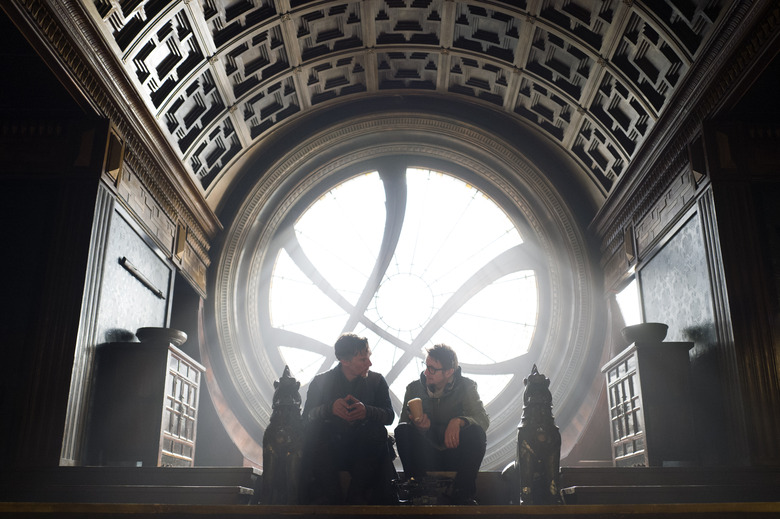 Yesterday, director Scott Derrickson appeared on Reddit to answer fan questions about his upcoming film, Doctor Strange. While nothing huge was revealed, I thought a few of his answers were worth sharing, including how the film compares with his previous horror films, the running time of the movie, is he consulting with the Russo brothers on Steven Strange's appearance in Avengers: Infinity War, details on the film's soundtrack and more.
Note: some of the following questions have been edited to be more presentable and to the point.
Are there elements of horror in this movie? And how would you compare your this to your previous films?
There is no straight horror in the movie, but it is a bit darker and more serious than other Marvel movies. I think the connection between my horror films and this film is the balance of the supernatural/fantastical with very realistic, grounded characters.
How is Mordo different in the movie from the comics?
He won't be as arch or one-dimensional as he was in the comics. He undergoes a slow evolution/de-volution in this movie.
What year does the movie take place in?
It's all modern day
How long is the movie?
Just under two hours.
How much communication did you have with the Russo's about their use of Strange in Avengers: Infinity War?
I talk with Joe Russo regularly, but we never spoke about that specifically. Good question, though.
Will the wacky mantras and incantations (Hoary Hosts of Hoggoth, Flames of Faltine, Winds of Watoombs) be heard in the film?
You will hear some phrases you recognize.
Are there any Bob Dylan songs in the movie?
I looked for a place to use Bob Dylan in the movie, but I just couldn't find the right place for one. But we do have a 60s Pink Floyd song. Fuck yeah.
—
It's interesting that Scott says the film takes place completely in modern day as we have heard that the Eye of Agamotto possesses the ability to travel through time, something that will probably be explored in greater depth later on. It also means we probably won't get a flashback showing us the backstory of the Ancient One and the magic artifacts. It looks like we will be experiencing the journey completely from Doctor Strange's point of view, from his accident to becoming Sorcerer Supreme.
I'm happy to hear that Doctor Strange will be under two hours, as some of the past Marvel Studios movies have stretched to almost two and a half hours.
The one comment that makes me a little nervous is Derrickson stressing that this movie will be "darker and more serious than other Marvel movies." I'm wondering how the Marvel hopeful will respond.