AMC Announces 88-Hour 'Walking Dead' Marathon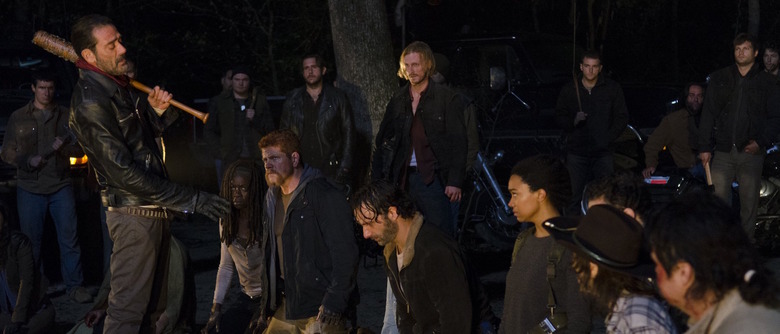 We are less than two weeks away from the season 7 premiere of The Walking Dead, which is great news if you're all caught up and eager to finally get resolution on that controversial season 6 finale. It's maybe less good news if you've been meaning to check out the show, but haven't quite gotten around yet, and are now realizing you have to somehow get through six seasons in about twelve days. Fortunately, AMC is here to help you out. The network has announced an 88-hour marathon to air in the days leading up to the season 7 premiere. 
The 88-hour marathon will not air all at once. It'll start Sunday, October 16 at 7 AM, with the entire first season and the first half of season 2, capped off by a two-hour retrospective of the series on Sunday night. The marathon will then resume each night at 6 PM for the rest of the week, with the season 6 finale airing just before the season 7 premiere on Sunday, October 23 at 9/8c. The Walking Dead has aired 83 episodes across its first six seasons, including a handful of installments that went a little longer than the usual one-hour (with commercials) running time.
The Walking Dead extravaganza is part of AMC's annual FearFest programming event. From October 13 through October 31, the network will also air horror films like Carrie, Halloween, A Nightmare on Elm Street, Friday the 13th, The Amityville Horror, The Exorcist, Alien, and Chucky along with many of their related sequels, prequels, spinoffs and/or reboots. (Get the full schedule on the official AMC website.) This year marks the 20th incarnation of FearFest, which helped launch The Walking Dead all the way back in 2010.
As for what we can expect to see from the next new episode of The Walking Dead, producer Greg Nicotero has promised we'll get a resolution to that season 6 cliffhanger right in the season 7 premiere. In addition, the new run of episodes will introduce Ezekiel, Shiva, and the Kingdom. And while we don't know what other twists and turns the show will take in the weeks to come, we can rest assured season 7 won't end on another season 6-style cliffhanger.