Cool Stuff: An Art Tribute To The Disney Films Of Ron Clements And John Musker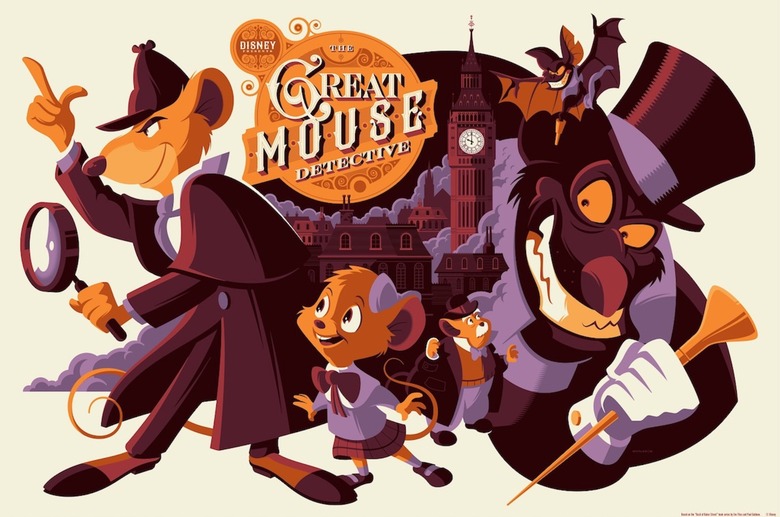 To celebrate the release of Disney's next animated feature film Moana, Cyclops Print Works is teaming up with Gallery Nucleus to present "An Art Tribute to the Disney Films of Ron Clements and John Musker" gallery show.
For those of you who don't know, Moana filmmakers Ron Clements and John Musker are responsible for some of the best Disney animated films of the 1980's and 1990's, including The Little Mermaid, Aladdin, and Hercules, in addition to The Great Mouse Detective, Treasure Planet, and Disney's last hand-drawn animated feature film Princess and the Frog. The limited-time art show will open on November 19th, 2016 at Gallery Nucleus in Alhambra, CA, where the artwork will be on display until December 6th, 2016.
The show features some great artists like JC Richard, Tom Whalen, Mark Englert and more! Hit the jump to get a sneak preview of some of the excellent artwork which will be on display and available at the show.
The above print is The Great Mouse Detective By Tom Whalen, which will be released as a 36"x24" Serigraph, Limited-Edition of 275. Here is a look at some of the other prints available at the gallery show:
And we may be late to the party but we should mention that the El Capitan Countdown to Moana event is currently happening in Hollywood. Cyclops Print Works is helping support the event with limited-edition handbill giveaways.
In addition to the special guests appearing on each night, the first 50 guests in line will get the opportunity for autograph signing by the Ron Clements & John Musker on the dates they will be appearing. The other special guests are not guaranteed for autographs or meet & greets.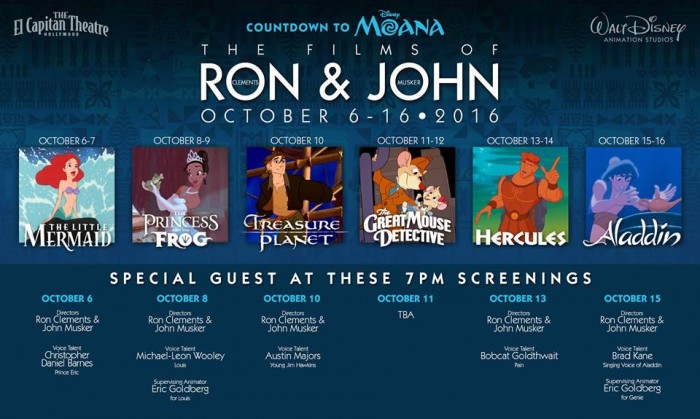 Check out some of the handbills which are being given away on the special nights where there's a guest in attendance. Limited to the first 200 guests to arrive. Each handbill is 5"x5" featuring artwork by Joe Dunn.
October 6th – The Little Mermaid Handbill
October 8th – The Princess and the Frog Handbill
October 10th – Treasure Planet Handbill
October 11th – The Great Mouse Detective Handbill
October 13th – Hercules Handbill
October 15th – Aladdin Handbill
Plus, the first 200 guests to pre-order tickets for Moana at the El Capitan in person will get receive 4 Moana handbills with artwork by Bill Schwab.