'Army Of One' Trailer: God Calls Up Nicolas Cage For A Favor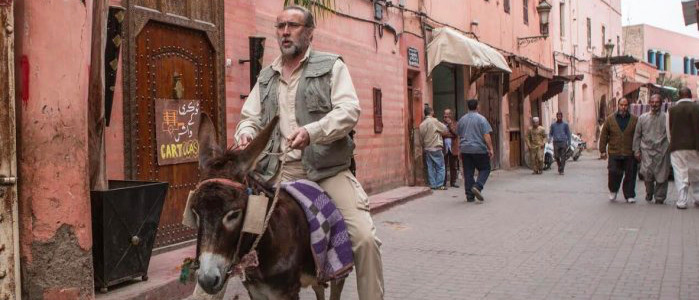 During a recent Q & A for Paul Schrader's Dog Eat Dog, Nicolas Cage said he wanted to play the film's often unhinged, coke-snorting, Humphrey Bogart-quoting, baby-napper crook because, to paraphrase, he was exhausted from playing wacky characters. That should give you some idea of what to expect from his high-energy performance in director Larry Charles' (Bruno) Army of One, in which he plays a modern-day Don Quixote hunting Osama Bin Laden.
Below, watch the Army of One trailer.
Nicolas Cage is Gary Faulkner, and Gary Faulkner is on a mission from God (Russell Brand). The unemployed ex-con receives a message from the big man in the sky, telling him he must find Osama Bin Laden. With nothing but his dim wits, perseverance, and, best of all, a sword he bought from a home-shopping network, Faulkner heads to Pakistan.
Army of One, which is written by Rajiv Joseph and Scott Rothman (Draft Day) and loosely based on a true story, co-stars Wendi McLendon-Covey (The Goldbergs), Rainn Wilson (The Office), Denis O'Hare (Duplicity), Adrian Martinez (Focus), Will Sasso (The Three Stooges), and Paul Scheer (The League).
Here's the Army of One trailer (Source: Entertainment Weekly):
When Cage said he was a bit drained from playing more boisterous characters, it's easy to see why after watching this Army of One trailer. The actor wasn't knocking the movie in any way, but even by Nicolas Cage's standards, his performance in Larry Charles' film looks big. Cage is often very funny, especially when it comes to physical comedy, but it's rare to see him in balls-out comedies like Army of One, and it looks like he held nothing back with Gary Faulkner. The trailer for Charles' latest is a little too broad and wacky, but on the bright side, it does show a bearded, unhinged Cage hunting down Osama Bin Laden.
Here's the official synopsis for Army of One:
Gary Faulkner (Cage) is an ex-con, unemployed handyman, and modern day Don Quixote who receives a vision from God (Brand) telling him to capture Osama Bin Laden. Armed with only a single sword purchased from a home-shopping network, Gary travels to Pakistan to complete his mission. While on his quest, Gary encounters old friends back home in Colorado, the new friends he makes in Pakistan, the enemies he makes at the CIA – and even God and Osama themselves. Wendi McLendon-Covey, Rainn Wilson, and Paul Scheer also star in this hilarious tale of patriotism and one man's quest for justice.
Army of One is available on Digital HD, Blu-Ray, and DVD starting November 4th.