Disney's Live-Action 'Aladdin' Remake Conjures Director Guy Ritchie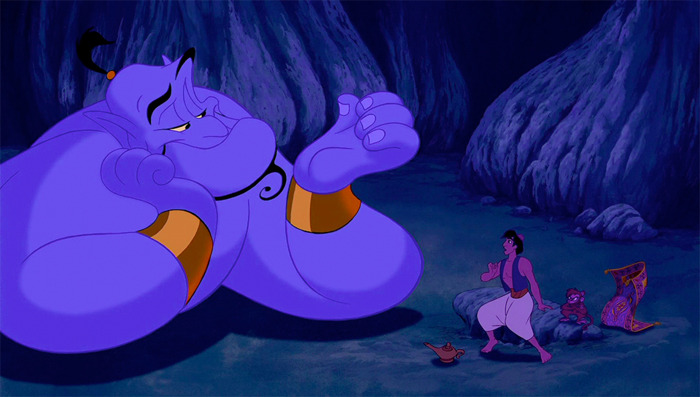 Another of Disney's many, many, many live-action remakes is moving forward. Aladdin has conjured up a new director in Guy Ritchie, who'll work from a script by John August. The news follows last week's reveal of a Mulan release date and last month's announcement of a Lion King remake.
Disney's animated Aladdin was part of the "Disney Renaissance" of the 1990s. Based on the Middle Eastern folk tale, the story follows a street urchin who comes into possession of a magic lamp. Inside is a genie who offers him three wishes. Aladdin uses those wishes to help woo the princess Jasmine and prevent the evil sorcerer Jafar from becoming the Sultan.
The Hollywood Reporter describes Ritchie's Aladdin as "an ambitious and non-traditional" take with a "non-linear" approach. But you can expect the new movie to retain some of the beloved elements of the original, including many of the musical elements. This seems to be a separate project from the Genies spinoff that was in development as of last year.
Still unclear is how the new Aladdin will approach the Genie, who was so memorably played by Robin Williams in the 1992 film. Interestingly, while there's tons of unused material left over from Williams' recording sessions, Williams reportedly left behind a will that prevents Disney from using any of it for the next two decades.
Ritchie has recently spent a lot of time revitalizing classic properties. His credits include the two Sherlock Holmes movies starring Robert Downey Jr. and last year's (overlooked but very delightful) The Man From U.N.C.L.E. Next out from him will be King Arthur: Legend of the Sword, which takes a grittier approach to the classic legends.
Dan Lin, who worked with Ritchie on the Sherlock Holmes movies, will produce Aladdin. No release date has been announced, though Disney has a few dates already set aside for all of its live-action fairy tales.