'Doctor Strange' IMAX Featurette Gets Trippy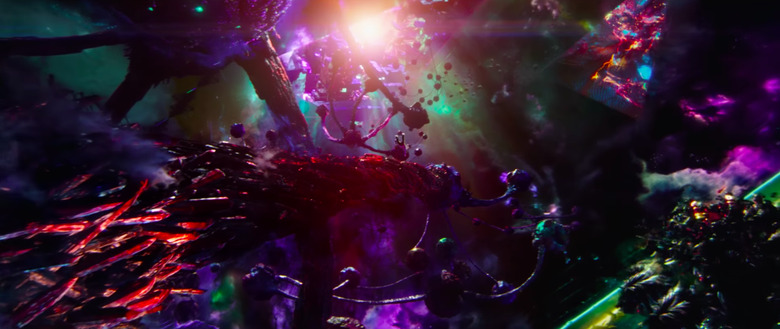 We've seen some pretty weird stuff over the past eight years and 13 films of the Marvel Cinematic Universe, visiting other planets and even other realms. But Doctor Strange has the potential to  be the most out-there MCU movie yet. A new Doctor Strange featurette offers a look at some of the trippy Steve Ditko-inspired visuals we'll see in the movie — just in time to convince you to shell out extra for IMAX 3D when tickets go on sale today. Watch the latest Doctor Strange featurette below. 
The Doctor Strange featurette starts out with the usual blather about how this movie represents an "entirely new aspect" of the franchise, and then quickly goes about showing us exactly what that means, serving up giant, colorful visions and reality-bending action sequences. Unlike the Marvel movies that have come before, Doctor Strange will delve into the more mystical side of the universe, dealing with parallel dimensions and what have you.
Fans of Doctor Strange from the comics will surely be happy to hear that DNA will be very visible in the movie. "Steve Ditko is one of the greatest Marvel artists in history," says Kevin Feige. "And that we're now able to take what he put in the mid-'60s, these trippy comic panels and comic covers, and we now have the technology to put that into big three-dimensional space on a movie screen is amazing, and we're not pulling back."
And while IMAX and 3D costs extra, the talking heads try to reassure you it'll be worth it. "For movies like this, IMAX is more immersive," says director Scott Derrickson. "Every setpiece is an attempt to give audiences visuals and sequences in ways that we haven't seen them done before." That's a pretty tall order, but the Doctor Strange featurette makes a pretty decent case for it. I really haven't seen anything like those psychedelic rainbow-colored sequences before in a Marvel movie.
Doctor Strange arrives November 4.
From Marvel Studios comes "Doctor Strange," the story of world-famous neurosurgeon Dr. Stephen Strange whose life changes forever after a horrific car accident robs him of the use of his hands. When traditional medicine fails him, he is forced to look for healing, and hope, in an unlikely place—a mysterious enclave known as Kamar-Taj. He quickly learns that this is not just a center for healing but also the front line of a battle against unseen dark forces bent on destroying our reality. Before long Strange—armed with newly acquired magical powers—is forced to choose whether to return to his life of fortune and status or leave it all behind to defend the world as the most powerful sorcerer in existence.
"Doctor Strange" stars Benedict Cumberbatch, Chiwetel Ejiofor, Rachel McAdams, Benedict Wong, Michael Stuhlbarg, Benjamin Bratt and Scott Adkins, with Mads Mikkelsen and Tilda Swinton. Scott Derrickson is directing with Kevin Feige producing. Louis D'Esposito, Stephen Broussard, Victoria Alonso, Charles Newirth and Stan Lee serve as executive producers. Jon Spaihts and Scott Derrickson & C. Robert Cargill wrote the screenplay. Join Strange on his dangerous, mystifying and totally mind-bending journey when Marvel Studios' "Doctor Strange" opens in U.S. theaters on November 4, 2016.