'John Wick: Chapter 2' Trailer: Keanu Reeves Is Back In Action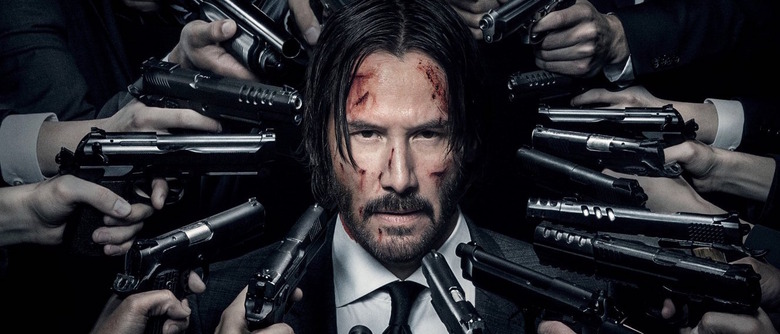 John Wick was one of the most pleasant surprises of 2014, a lean, mean thriller that delivered stylish action and a fantastically fun leading performance from Keanu Reeves. So naturally, John Wick: Chapter 2 has been high on the list of our most anticipated films of 2017. Earlier this week Lionsgate offered a small slice of footage from the sequel, and today they've served up a full-fledged trailer. Watch the John Wick Chapter 2 trailer below.
John Wick Chapter 2 Trailer
In the first John Wick, Reeves played a hitman who was the stuff of legend, until he retired to live out a peaceful life with his wife. But then she gets sick and dies, leaving him an adorable dog to remember her by. And then the dog gets killed by a smug little brat who's the son of a powerful crime boss. So John Wick digs out all his old tools, brushes up on all his old skills, and returns to the criminal underworld to get his revenge. The new film picks up just a short while later. This time, John Wick gets dragged into the drama by a former associate who's moving to take over a mysterious assassin's guild.
Lance Reddick, John Leguizamo, Ian McShane, and Bridget Moynahan all return from the first film. They are joined by Common, Riccardo Scamario, Ruby Rose, Franco Nero, Peter Stormare, and Laurence Fishburne (which makes this a Matrix reunion of sorts).John Wick: Chapter 2 arrives February 10, 2017. The film is directed by Chad Stahelski, who is flying solo this time after co-directing the last film with David Leitch. Derek Kolstad once again wrote the screenplay.
Keanu Reeves returns in the sequel to the 2014 hit as legendary hitman John Wick who is forced to back out of retirement by a former associate plotting to seize control of a shadowy international assassins' guild. Bound by a blood oath to help him, John travels to Rome where he squares off against some of the world's deadliest killers.