'Underworld: Blood Wars' Trailer: Selene Gets Back In The Fight Between Vampires And Lycans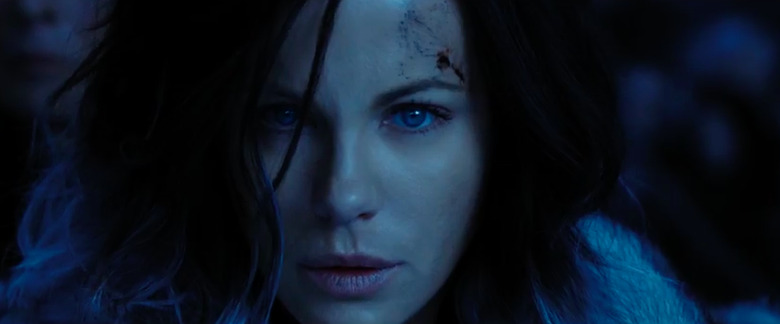 The Underworld franchise is now over 13 years old. The fifth installment in the series, Underworld: Blood Wars, isn't another prequel like Underworld: Rise of the Lycans; it's another sequel following Selene (Kate Beckinsale), a vampire with a deep fondness for tight black leather and a real knack for disposing of Lycans. At first, Underworld: Blood Wars was going to be a reboot, but Beckinsale decided to return to her role for the fourth time.
Below, watch the Underworld: Blood Wars trailer.
The latest sequel has a plot that doesn't sound too dissimilar from the first movie. The Lycans have a new leader, and he wants Selene and her hybrid daughter's blood. The Lycan leader Marius, played by Tobias Menzies of Outlander and Game of Thrones, wants their blood to make him and his Lycan clan invincible.
In the trailer, Selene says she doesn't know where her daughter is, despite having the power to see through her eyes to track her (as established in Underworld Awakening). There will likely be an explanation for that slight confusion from screenwriter Cory Goodman (The Last Witch Hunter) and director Anna Foerster, who was the DP of White House Down and directed a handful of standout Outlander episodes.
Here's the Underworld: Blood Wars trailer (which does seem to show an awful lot of the story):
To those who aren't completely up to date on their knowledge of the Underworld universe, the Blood Wars trailer might look like a little bit more of the same. Maybe that's because the aesthetic of this series hasn't seemed to evolve much over the years. The steely blue look is glossy, and it certainly has appealed to the eyes of many since Len Wiseman's Underworld. Fans are still turning out to see these movies. The four films have grossed over $450 million worldwide, which is pretty good considering most of them haven't been too costly to make. The last sequel, which starred Beckinsale, grossed the most money worldwide, bringing in $160 million. We'll see if Underworld: Blood Wars finds similar success to keep this franchise going.
Here's the official synopsis:
Underworld: Blood Wars follows Vampire death dealer, Selene (Kate Beckinsale) as she fends off brutal attacks from both the Lycan clan and the Vampire faction that betrayed her. With her only allies, David (Theo James) and his father Thomas (Charles Dance), she must stop the eternal war between Lycans and Vampires, even if it means she has to make the ultimate sacrifice.
Underworld: Blood Wars opens in theaters on January 6th, 2017.