HBO Is Making Green Day's 'American Idiot' Movie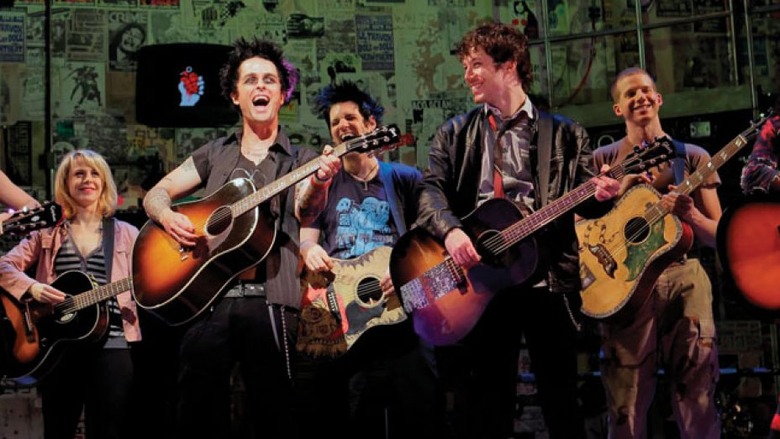 A movie based on Green Day's concept album, American Idiot, has been discussed for many years now. The band's hit 2004 album was first adapted into a musical. The Broadway production, which Green Day frontman Billie Joe Armstrong appeared in for about three months (playing St. Jimmy), won two Tony Awards and performed exceptionally well when Armstrong played the character. According to the frontman, he'll reprise the role again soon, because HBO has greenlighted an American Idiot movie.
For Green Day, making American Idiot felt like scoring a movie, so a film adaptation was always a part of their vision. While channeling The Who, Green Day saw each song in their punk rock opera as a part of a story. That story, which is about three dissatisfied young men debating leaving behind suburbia, was originally going to get told by Universal, but the musical is now HBO's.
Green Day's new album, Revolution Radio, is available starting tomorrow. While promoting the band's latest work, Armstrong told NME the American Idiot movie is finally happening:
We've got a green light from HBO. The script is currently going through a couple of rewrites here and there, so I'm not sure when exactly we're going to start shooting, but it's definitely all systems go at the moment.
Tom Hanks' production company Playtone has been a part of the film adaptation since 2010. The director of the Broadway musical, Michael Mayer, is returning to direct the feature, which is written by playwright Rolin Jones. Years ago, Academy Award winner Dustin Lance Black (Milk) was hired to write a draft of American Idiot when it was a Universal project. Why exactly Universal didn't make the movie is unknown, but Mayer cited "Hollywood bullshit" as the main reason for the holdup.
The music for the show features all the tracks from American Idiot, but it includes an unreleased song from the album, "When It's Time," and songs from 21st Century Breakdown. The musical had 26 previews and 422 regular performances at the St. James Theater. After the show's time on Broadway, there was an international tour. Whether anyone else from the Broadway production will reprise their roles in the HBO film is unknown. The musical was Armstrong's first acting experience, but he stars in an under-the-radar movie opening next month, Ordinary World, which co-stars Fred Armisen, Judy Greer, and Selma Blair.