'Mary Poppins Returns' Casts Emily Mortimer As Jane Banks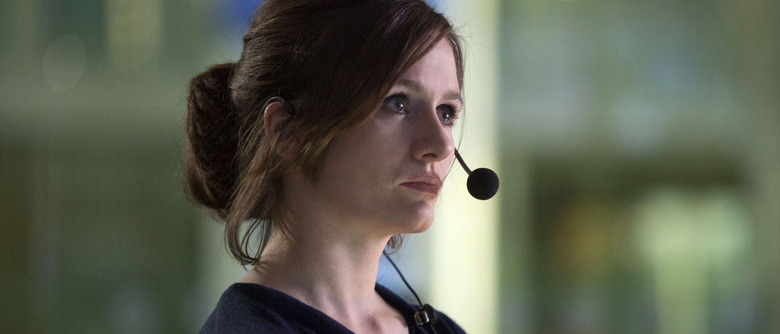 Who knew the Banks kids from the original Mary Poppins would turn out so well? Emily Mortimer has just been cast in Mary Poppins Returns as the grown-up Jane Banks, joining Ben Whishaw as her brother Michael Banks. The Disney sequel stars Emily Blunt as the ageless magical nanny, Lin-Manuel Miranda as her buddy, and Meryl Streep as her cousin. 
Mary Poppins Returns is set in Depression-era London, about 20 years after the events of the original 1964 movie. Jane and Michael are adults now, and Michael has three kids of his own. When tragedy strikes the family, Mary Poppins arrives to help them rediscover the joy and adventure missing from their lives. Miranda plays a lamplighter named Jack, who is this film's equivalent of Dick Van Dyke's Bert but (we're assuming) less likely to offend the Brits with his terrible accent.
Rob Marshall (Into the Woods) is directing Mary Poppins Returns from a script by David Magee (Life of Pi). The original Mary Poppins was based on the first of P.L. Travers' eight books about the character, and Mary Poppins Returns will pull from the other volumes in that series. Despite the presence of a practically perfect new Mary, Mary Poppins Returns is a "straight up" sequel, as Miranda put it, not a reworking or a retelling.
Mary Poppins Returns has a tall order to fill if it wants to live up to the last film. Mary Poppins was a smash hit at the box office and scooped up five Oscars including Best Actress for Julie Andrews. It's so iconic, in fact, that it got its own origin story in 2013: Saving Mr. Banks, which starred Tom Hanks as Walt Disney and Emma Thompson as P.L. Travers.
But that top-notch cast sure seems like a good start. Other talents on board include Marc Shaiman, who will compose the score. He'll also write original songs with Scott Wittman. Marshall will produce with John DeLuca and Marc Platt.
Mortimer's recent credits include the HBO shows The Newsroom and Doll & Em, and the films Hugo, Our Idiot Brother, Shutter Island, and Cars 2.
Mary Poppins Returns is scheduled to open December 25, 2018.
[Source: TheWrap]