'The Punisher' Casts Ebon Moss-Bachrach As Microchip; 'Daredevil' Star Spotted On Set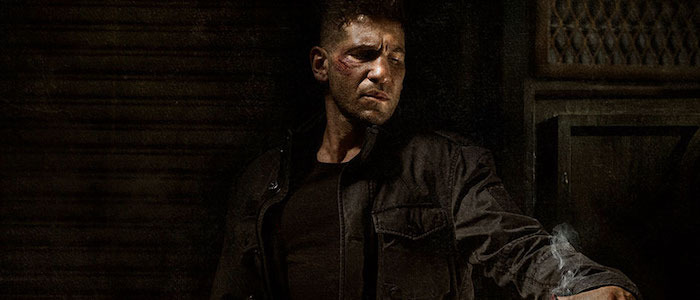 Frank Castle is getting some company. As shooting gets underway in New York, Netflix's The Punisher has added a few more names to its roster. Ebon Moss-Bachrach (HBO's Girls) and Amber Rose Revah (Son of God) have joined Jon Bernthal the Marvel spinoff series, while new details have emerged on the character played by Ben Barnes (HBO's Westworld). In addition, set photos reveal a certain Daredevil character will return for The Punisher.
Get all the latest details on The Punisher casting below. 
Entertainment Weekly reports that Moss-Bachrach, perhaps best known as Desi on Girls, will play Micro, a former NSA analyst who has some sensitive information that Frank Castle might need. In the comics, David Linus Lieberman a.k.a. Micro or Microchip starts out as an ally to the Punisher, supplying weapons and technology to the vigilante, but eventually becomes a villain.
Revah has been cast as Dinah Madani, described as "a highly-trained sophisticated Homeland Security agent who is vexed by the Punisher." There is no character by that name in the comics that I know of, so she may be an adaptation of a different character or someone entirely new created just for the series.
Moving on, TV Line has new intel on Barnes' role in the series. While we've known since last month that the actor would be part of the cast, earlier rumors suggested he'd be playing the villain. Instead, it is now confirmed he's playing Billy Russo, Frank's best friend from their Special Forces days. It also happens that Frank runs a private military corporation called Anvil.
While it's nice to see Frank Castle making new friends and foes for his spinoff series, you may also be pleased to hear he'll be getting a visit from an old pal. Just Jared has photos of Bernthal on set, where he was recently joined by Daredevil actress Deborah Ann Woll, who plays Karen Page.
Jon Bernthal filmed #ThePunisher with Deborah Ann Woll by the water in Brooklyn — new photos: https://t.co/tlMUlIU9br pic.twitter.com/AfFCfMtvdM

— JustJared.com (@JustJared) October 6, 2016
Netflix has yet to announce a premiere date for The Punisher. Though the streaming service previously said the series would be released after The Defenders (which comes after Iron Fist), the fact that The Punisher is already shooting could mean it'll arrive a bit earlier than expected. We can probably look for this one around late 2017, or maybe early 2018 at the latest.