'Ocean's 8' Sets Summer 2018 Release Date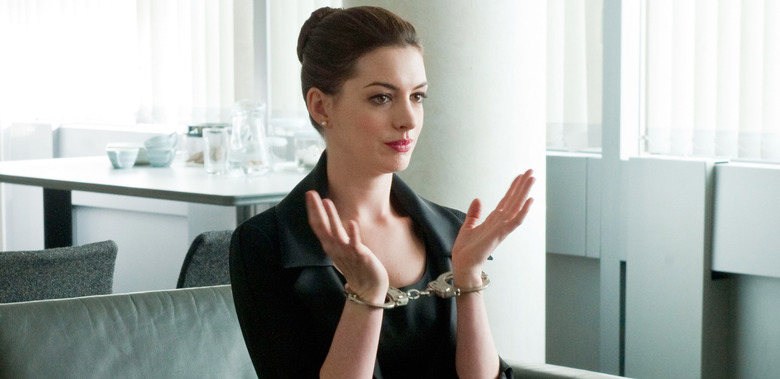 Warner Bros. and Village Roadshow Pictures have mapped out a plan for its star-studded Ocean's Eleven spinoff. The studio has announced a 2018 release date for Ocean's 8, which stars Sandra Bullock, Anne Hathaway, Cate Blanchett, Sarah Paulson, Mindy Kaling, Awkwafina, Rihanna, and Helena Bonham Carter. Gary Ross is directing.
THR reports Ocean's 8 will arrive at the height of the summer movie season on June 8, 2018. It'll open directly against Paramount's Transformers 6, and should serve as a nice bit of counter-programming for audiences tired of watching giant CG robots go at it with each other. Also opening around that time are Disney's Han Solo spinoff (May 25), Pixar's Toy Story 4, and Universal's Jurassic World sequel.
Bullock leads Ocean's 8 as the sister of Danny Ocean, George Clooney's character from Steven Soderbergh's Ocean's movies. Like her brother, she's a charismatic thief. She organizes a heist to take place at the Met Gala, and recruits a colorful team to help her pull it off. Blanchett plays her right-hand woman (basically, the Brad Pitt to Bullock's George Clooney). Soderbergh is producing.
Speaking to /Film's Jack Giroux this summer, Ross explained how Ocean's 8 would be like the Soderbergh's Ocean's Eleven films. "I think it's a pretty similar tone," he said. "This is very much an extension and a continuation." He went on to praise the "amazing tone" of the earlier films, and talked up his collaboration with Soderbergh on the project. "We discuss the cinema a lot, the shooting style, the rhythm, the editing style, and the music. We discuss it all," he said. "I'm in no way trying to reinvent the tone, and I'm thrilled and honored to be extending it. It's really fun to work with."
Ross is directing Ocean's 8 from a script he wrote with Olivia Milch. Susan Ekins will executive produce. The project has been in development for years, but hit a speed bump when producer Jerry Weintraub passed away last year. The project finally got back on track last year when Ross signed on. Shooting begins this month in New York.