'Shooter' Finally Sets New Premiere Date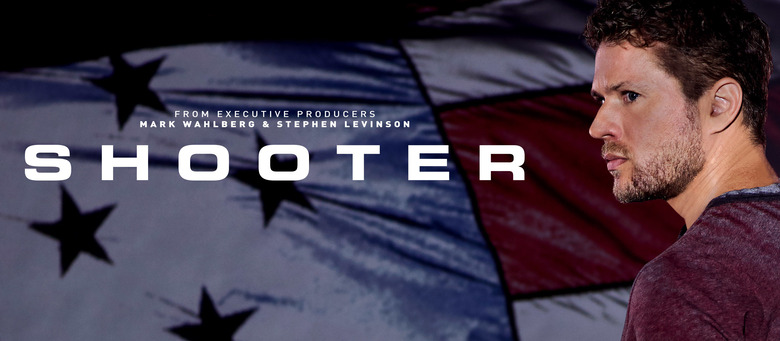 USA's Shooter will premiere over three months after it was originally scheduled to air. After the tragic sniper shooting in Dallas, Texas, this past summer, USA postponed the pilot out of respect for the victims. The pilot got delayed a week, but another horrific shooting in Baton Rouge, La., led to Shooter being pulled from the summer schedule altogether. The show, which stars Ryan Phillippe, will now debut in November.
Below, learn the new Shooter premiere date.
November 15th is Shooter's new air date. Based on Stephen Hunter's Point of Impact and Antoine Fuqua's fine 2007 popcorn thriller, Shooter stars Phillippe as Bob Lee Swagger, a highly-skilled ex-Marine sniper pulled out of exile. Swagger tries to prevent an assassination attempt on the president, but he finds himself framed for murder and the assassination attempt. USA released a new TV spot to announce the new release date for the series, which is executive produced by the original film's star, Mark Wahlberg.
Here's the latest look at Shooter (Source: Twitter):
To clear his name & find the truth – he has to survive. @RyanPhillippe stars as #BobLeeSwagger. #ShooterTV premieres 11.15 at 10/9c on USA. pic.twitter.com/1EFrQzQp1h

— Shooter (@Shooter_USA) October 4, 2016
We spoke with Dawn Olmstead, Executive Vice President, Development, about the Shooter delay. Olmstead said it was important to remain human beings and sensitive to what's going on in the world:
Right now, there's a meeting about exact dates but for us, the sooner we can get it on the air the better. Who knows what's going to happen in the world? But I think we're always going to be sensitive to what's happening in the world. It's getting on the air because it is good and it's a veteran story that really deserves to be told. We look at everything today trying to be sensitive for ourselves. So everything is through that lens. There was stuff that happened last year on Mr. Robot where pulled an episode [for a week]. We're trying to be human beings while we do our job.
John Hlavin (Underworld: Awakening, The Shield) created Shooter. The showrunner was initially working on the show at TNT, but it ended up at USA. Shooter is executive produced by Lorenzo di Bonaventura (Transformers) and Stephen Levinson (The Gambler). The series co-stars stars Omar Epps, Cynthia Addai-Robinson, Tembi Locke, Shantel VanSanten, and David Marciano. Season one of Shooter is 10 episodes long.
Here's the series' official synopsis:
Shooter is an uncompromising exploration of the definition and evolution of a hero. Ryan Phillippe ("Secrets and Lies") is a producer on the project and will star as Bob Lee Swagger, an expert marksman living in exile who is coaxed back into action after learning of a plot to kill the president. Omar Epps ("House") plays Isaac Johnson, an ex-Marine and former commanding officer of Swagger. Now a Secret Service Agent, he solicits Swagger's expertise for a clandestine operation that has disastrous results.
Shooter premieres on Tuesday, November 15th at 10/9c on USA.