'Allied' Trailer: Brad Pitt And Marion Cotillard Get Swept Up In Romance And Intrigue During WWII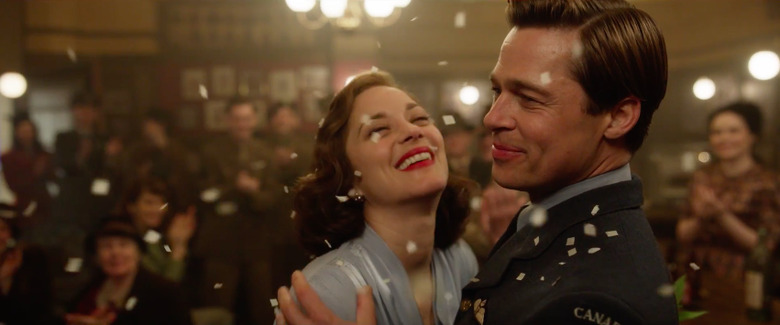 All relationships have secrets, but any problems you have with your significant other will surely pale in comparison to Brad Pitt's issues with Marion Cotillard in the new trailer for Allied. Robert Zemeckis' romantic thriller stars Pitt as Max, an intelligence officer who meets French resistance fighter Marianne (Cotillard) during World War II. They're assigned to pose as a couple for a mission, but begin to fall in love for real. So far, so good; Allied sounds like a star-crossed romance set against the dramatic backdrop of war.
But when Max and Marianne return to London and start to build a home, a shocking revelation threatens to destroy the trust they've built. Max gets word that Marianne is under suspicion of working for the enemy, and finds himself tasked with killing the woman he's come to love. Told you their problems were more serious than yours. Watch the Allied trailer below.
Allied Trailer
While the earlier Allied teasers leaned into the love story, the full-length trailer serves up more action and intrigue. It still basically looks like Pitt's Mr. & Mrs. Smith redone as a World War II drama (a comparison that Paramount claims it was not trying to emphasize by dropping a promo the same day news broke of Pitt's split from Mr. & Mrs. Smith co-star Angelina Jolie), but the romance angle and the thriller aspect really seem to feed into one another. There's a delicious tension in the way they eye each other after Max gets the shocking news, and I can't help but hope that these crazy kids will find some way to work things out.
Allied opens November 23. Jared Harris, Matthew Goode, and Lizzy Caplan also star.
ALLIED is the story of intelligence officer Max Vatan (Pitt), who in 1942 North Africa encounters French Resistance fighter Marianne Beausejour (Cotillard) on a deadly mission behind enemy lines. Reunited in London, their relationship is threatened by the extreme pressures of the war.