Star Wars Land Update: How Stormtrooper Battle Escape Will Be Different From Every Other Ride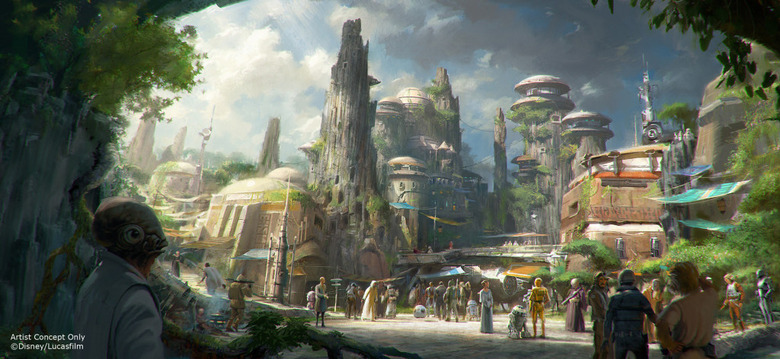 As construction on Star Wars Land has gone vertical in Anaheim, we are beginning to learn more information about Disneyland's upcoming immersive spaceport experience. The ride queues for the land's two E-ticket attractions will feel less like a long line and more like a storytelling experience that brings park visitors through many different environments. Also, word has it that the Stormtrooper Battle Escape ride will involve you having to abandon your ride vehicle mid-ride and make a run for it away from oncoming First Order Stormtroopers. All this and more in the latest Star Wars Land update, after the jump.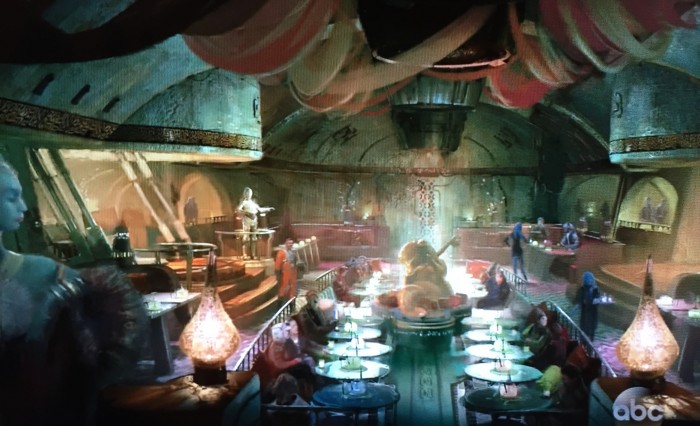 The new information on Star Wars Land comes via an insider report at MiceChat. Among the new bits of information:
WDI wants to leapfrog the competition at Universal Studios by creating an immersive Star Wars environment that is more akin to Renaissance Faire cosplay than a theme park land. Shops and dining would be hyper-themed and operated like elaborate dinner theaters and living history museums.
This seems obvious, I think this is the promise of the concept art that Bob Iger showed at the initial announcement. But the site seems to suggest that the line queues for land's two E-Ticket rides will be more like immersive storytelling experiences than a boring line.
"Visitors would be guided through long plot-filled stories that take them through multiple environments before they board their ride vehicles. In the case of the Millennium Falcon ride, code-named Big Bird at WDI, the experience would involve moving between multiple pre-show theaters setting up the plot and what tasks you must complete once you board the Falcon and launch into space. And if you fail at your assigned tasks, a happy ending is not a guarantee."
I remember the first time I rode Indiana Jones Adventure in Disneyland, being amazed by the massive highly detailed and themed temple queue. Before the invention of Fastpass, you would explore the Temple of the Forbidden Eye (now you just run by 90% of it). I think this was the first time I realized that waiting in line didn't need to be a boring experience. With Haunted Mansion and Twilight Zone's Tower of Terror, Disney extended their storytelling experience to the line, making it feel like less of a wait and more of an experience. It seems like this will be the next level version of this.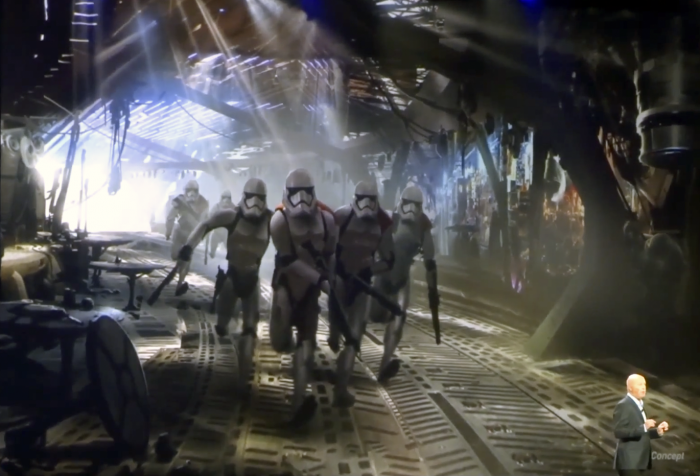 The most exciting bit of information revealed in the report is about the Stormtrooper Battle Escape ride, which as we've reported before, is code-named Alcatraz within Walt Disney Imagineering. The new report suggests that the attraction will involve you having to abandon your ride vehicle mid-ride and make a run for it away from oncoming First Order Stormtroopers.
WDI wants you to rush to your wireless and trackless vehicle and board and then disembark and re-board the vehicles on different levels of the massive ride building several times during the course of a long experience, all while under attack by Stormtroopers. The pit currently being dug deep into the ground on the Alcatraz site is required for the elevator mechanism that will make the multi-level ride possible. Imagine riding Pirates of the Caribbean, but getting off your boat in the caverns to explore the skeletal remains, getting back in your boat quickly when you hear Barbosa attacking the fort, sailing along until you get out of your boat a second time in the auction scene to interact with the panicky townsfolk for a while, then re-board your boat quickly when the fire breaks out to escape by sailing through the rides finale'.
This sounds super cool, but the cynical part of me thinks it will make things slow. People boarding and unboarding ride vehicles always takes more time than it should, and walking experiences like that at the beginning of Disneyland's Haunted Mansion mostly feel like a clusterfuck. And apparently, I'm not wrong. The site claims that both attractions will have a tiny operational capacity not expected to get more than 1,500 riders per hour.
To give you perspective, that's roughly half the hourly capacity of Pirates of the Caribbean or slightly less than Radiator Springs Racers in DCA. According to the report, Disney executives haven't pushed WDI to increase the number, and the main concern is making the experience lightspeed better than anything else available in Disney parks or elsewhere.
As for the worry that the Stormtrooper Battle Escape ride might involve a bunch 3D projection screens, the site has learned that that experience alone will have over 150 animatronic Stormtroopers alone, "plus additional animatronic Star Wars characters from the tiny to the gargantuan." If that doesn't excite you, I don't know what will. To give you some perspective, Disneyland's massive 16-minute long Pirates of the Caribbean has only 75 audio-animatronic pirates and villagers. I never thought I'd say Pirates, animatronics and "only" in the same sentence.