'Chance' Trailer: Hugh Laurie Lives Dangerously In The New Hulu Series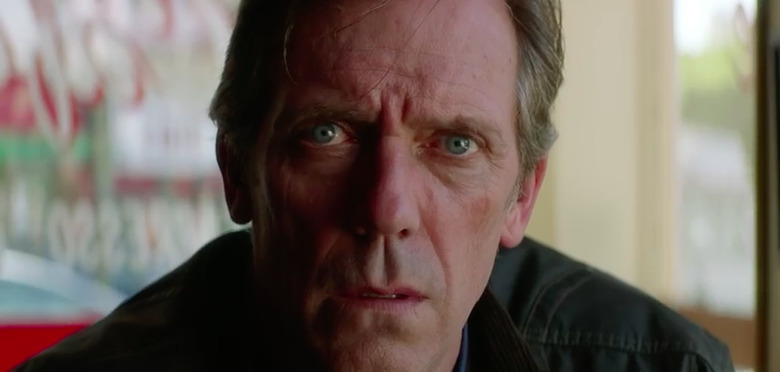 Earlier this year, we saw Hugh Laurie play one hell of a menacing villain in The Night Manager. The actor played his villainous part with relish, but in his next series, he's taking on a more well-intentioned character. Laurie stars in Chance, a new drama/thriller from Hulu that's executive produced by Lenny Abrahamson (Room), who also directed a few episodes.
Below, watch the Chance trailer.
Based on Kem Nunn's novel, Hugh Laurie stars as Dr. Eldon Chance, a forensic neuropsychiatrist who ventures outside of his area of expertise with a stolen identity plot, corrupt police, and a mysterious patient (Gretchen Mol). The show, which has a two-season order from Hulu, was created by Kem Nunn and Alexandra Cunningham (Desperate Housewives). The show co-stars Ethan Suplee (The Wolf of Wall Street), Clarke Peters (Treme), Paul Adelstein (Intolerable Cruelty), and Greta Lee (Homeless Heidi from High Maintenance).
Here's the Chance trailer:
If you want to watch an everyman playing a dangerous game, Laurie isn't a bad leading man for that job. Laurie is again playing the titular doctor of a television show, but nobody would confuse Chance for anything resembling the former long-running television drama House. The Hulu series, which is also executive produced by Brian Grazer, looks like another show with potential from the streaming service. Once the tension starts rising in the trailer, Chance starts to appear more compelling. Whether Dr. Chance enjoys the danger he gets himself into could make for some entertaining drama. Lisa Gay Hamilton's line about being on some dangerous ground and the conflicted expression on Laurie's face is by far the highlight of the trailer.
Here's the official synopsis:
Based on the acclaimed novel by Kem Nunn, "Chance" is a provocative, psychological thriller that focuses on Dr. Eldon Chance (Laurie), a San Francisco-based forensic neuropsychiatrist who reluctantly gets sucked into a violent and dangerous world of mistaken identity, police corruption and mental illness. After an ill-advised decision regarding an alluring patient who may or may not be struggling with a multiple personality disorder, Dr. Chance finds himself in the crosshairs of her abusive spouse, who also happens to be a ruthless police detective. In over his head, Dr. Chance's descent into the city's wayward underbelly, all while navigating the waters of a contentious divorce and tribulations of his teenage daughter, soon spirals into an ever deepening exploration of one of mankind's final frontiers — the shadowy, undiscovered country of the human mind.
Chance premieres on Hulu on October 19th.