Watch: Superhero Fight Club 2.0 Brings Together The CW's DC Heroes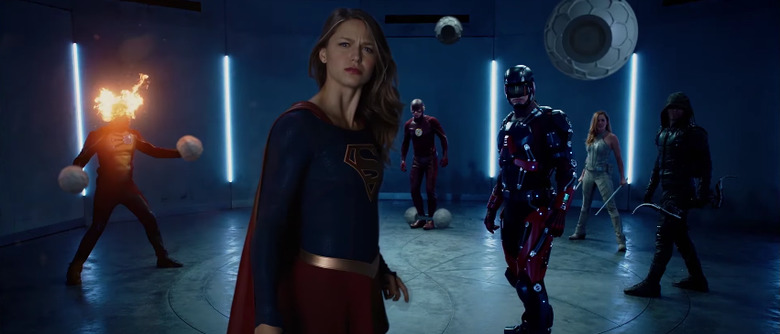 After spending her debut season over on CBS, Supergirl is flying over to The CW this fall to join the rest of the network's DC heroes. And that means it's time for Kara to get inducted into one of the franchise's burgeoning traditions, Superhero Fight Club.
The first Superhero Fight Club promo aired last year, pitting the heroes and villains of Arrow and The Flash against each other in an epic cage match. Now Superhero Fight Club 2.0 brings together characters from Supergirl, Arrow, The Flash, and Legends of Tomorrow for an even flashier, more high-tech battle. Last week's teaser showed Supergirl getting sucked into the madness by Arrow and the Flash, and this week the full Superhero Fight Club 2.0 promo reveals what happened next. Watch it below.
Okay, this one looks less like a fight club and more like a training session, since no one is actually fighting each other. Still, it gives everyone an opportunity to show off their moves, which is what's important. But the heroes down on the ground aren't having nearly as much fun than the gang up in the control room, including Arrow's Felicity and Diggle, The Flash's Cisco, and Supergirl's Hank Henshaw. Especially when they get to unleash a certain villain at the end.
How do you think Superhero Fight Club 2.0 stacks up against the first one? Watch the original promo from last year below.
While Superhero Fight Club 2.0 isn't canon, all four shows will intersect later in the season for an event based on the Invasion! storyline from the comics, which had an alien race called the Dominators trying to wipe out metahumans. And Supergirl and The Flash will be joining forces for a musical crossover sometime next year.
This week brings the premiere of The Flash season 3 on October 4 and Arrow season 5 on October 5. Next week, Supergirl season 2 kicks off on October 10 and Legends of Tomorrow season 2 on October 13. Then, for the rest of the season, set your DVRs to Supergirl on Mondays, The Flash on Tuesdays, Arrow on Wednesdays, and Legends of Tomorrow on Thursdays.