'Alita: Battle Angel' Adds 'Luke Cage' Villain Mahershala Ali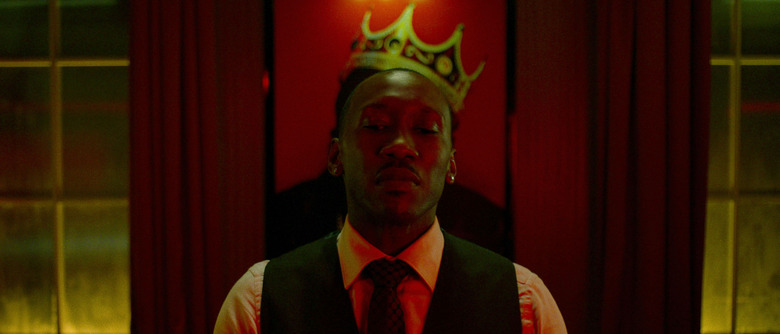 If you spent all weekend binging Luke Cage, as we did, you probably came away marveling at Mahershala Ali. While he's been doing fine work for years, 2016 seems destined to go down as the year he really broke out, between his Marvel villain turn and his highly praised performances in films like Moonlight. And his winning streak doesn't look like it's going to slow down anytime soon.
Ali is in negotiations to join Alita: Battle Angel, Robert Rodriguez's adaptation of the popular manga. Rosa Salazar stars as the title character and Christoph Waltz and Jackie Earle Haley are also among the cast. James Cameron is producing.
Based on Yukito Kishiro's 1990s manga series, Alita is an action-adventure story set in the 26th century. Salazar plays a female cyborg who wakes up in a scrapyard with no memory of her past life, though she has retained extensive martial arts skills. She gets to work as a bounty hunter, seeking out dangerous criminals while continuing her search for clues about her own past.
Waltz plays the cybersurgeon who first discovers her and eventually becomes her mentor, while geek staple Haley has been cast as a "monstrous" cyborg villain. Deadpool baddie Ed Skrein plays another villain, and Keann Johnson (Nashville) is Alita's love interest. According to The Hollywood Reporter, Ali will play yet another villain, "a man named Vector who runs and fixes matches in a gladiator-style combat game called Motorball."
In addition to his vicious role in Luke Cage, Ali has been drawing great buzz this year for roles in Free State of Jones, Kicks, and Moonlight. The latter has been one of the most talked-about features on the fall festival circuit, and while Ali only has a supporting role in it, he delivers a powerful performance that looms over the entire film. Ali's other upcoming films include Hidden Figures, a NASA drama that seems to be eyeing an awards-season run even if it isn't ready to confirm it quite yet.
Alita: Battle Angel has been in development for years but recently gained momentum when Cameron (who'd originally been planning to direct) stepped into the producer roles and brought on Rodriguez to direct. Shooting begins later this month in Austin for a July 20, 2018 release from 20th Century Fox.