'The Girl On The Train' Early Buzz: Emily Blunt's Thriller Draws Mixed Reactions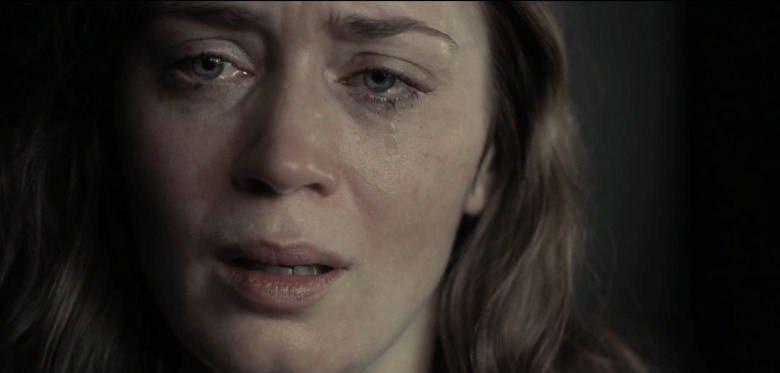 Tate Taylor originally appeared like an odd pick to direct the adaptation of Paula Hawkins' The Girl on the Train, an exciting, brutal, and sometimes darkly funny page-turner. Taylor, who's best known for directing The Help and Get on Up, hasn't directed a thriller before. Based on some of the early reviews, the filmmaker doesn't always fare well with Hawkins' mystery, despite a committed and often chilling performance from Emily Blunt.
Below, read The Girl on the Train early buzz.
There's no shortage of comparisons to David Fincher's Gone Girl adaptation in these reviews. The Girl on the Train and Fincher's film share superficial similarities, but not much more than that. They're different stories, for a plethora of reasons. But one thing is for sure: critics aren't as taken with The Girl on the Train as Gone Girl. So far, Taylor and screenwriter Erin Cressida Wilson's (Secretary) adaptation of Hawkins' novel is splitting critics:
Director Tate Taylor (The Help) doesn't bring the kind of stylistic dazzle that David Fincher, his fellow helmer in literary It Girl depravity, lavished on Dragon Tattoo and Gone Girl. But he deftly translates the bleak, raw-boned menace and tricky time signatures of Train's intertwined plotlines, and draws remarkably vivid performances from his cast, particularly his two female leads. Blunt and Bennett aren't girls at all; they're women on the edge of their own oblivion, wounded and furious and chillingly real.
"The Girl on the Train" gets less convincing as it goes along — the climax, which features a man, two women, and a kitchen utensil, is borderline camp — yet the movie has just enough intrigue, and has been made with enough craft, to disguise (for a while) the late-night cable-thriller mechanics it ultimately succumbs to. It delivers a sense of hidden dark lives, which is why it should have no trouble connecting at the box office.
Perhaps it's inevitable that "The Girl on the Train" plays like a flimsy, artificially sweetened version of David Fincher's lurid trash-terpiece — the source material, for all of its strengths, was still a less savvy and satirical version of the Gillian Flynn thriller that inspired one of 2014's best films. But no matter how basic Hawkins' book might be in comparison to some of the ones that came before it, it's hard to argue that it didn't deserve better than this, that any story so smartly attuned to the need for women to hear themselves and each other should be reduced to such flavorless swill. "Gone Girl" may have been trash, but "The Girl on the Train" is pure garbage.
Meaty issues around motherhood, infidelity and domestic abuse are touched upon, albeit not adequately explored, and the confrontational close-ups favoured by DP Charlotte Bruus Christensen have an intimate, woozy and penetrative quality which lends a psychological dimension to proceedings that's sometimes lacking in Erin Cressida Wilson's merely functional script – quite the contrast to the killer observations and it-feels-good-to-be-bad mischievousness of the aforementioned Gone Girl. The source material is undoubtedly an issue here, its easily anticipated trajectory a major sticking point. Adhering so closely to the book results in a fan-pleasing adaptation that stays obediently on track, even if that means delivering us to an all-too predictable destination.
The puzzle of how the various personal and narrative pieces will eventually fit together exerts a smidgen of interest, but the characters are so dour and un-dimensional as to invite no curiosity about them. The two main men, Tom and Scott, are humorless, ornery, sexually presumptuous and incapable of saying an interesting word about anything. The women aren't much better: the sullen Megan resembles a beautiful zombie, Anna can think or speak of little other than her baby, and Rachel only with great difficulty emerges from her booze-soaked cocoon. Taylor's first feature was called Pretty Ugly People; that could equally serve as the title for this one.
'The Girl on the Train' interweaves the lives of the three women – Rachel, Anna and missing Megan – hopping back in time to tell their stories. The script by Erin Cressida Wilson ('Secretary') does a neat job of condensing the novel's fiendish twists. But director Tate Taylor ('The Help') never fully manages to convey its darkness. Even with the occasional shot of piss-soaked knickers there is something a bit tasteful about 'The Girl on the Train'. Like a fridge whose door's been left open overnight, the film doesn't feel chilly enough. It's not terrible, but fans of the book may well be disappointed.
The Girl on the Train is enjoyable, but it's not as thrilling or as nuanced as its source material. In condensing in Hawkins' story, some characters aren't as real as they are on the page. What's exciting about the novel is, the personal conflicts keep you turning page after page, not the central mystery. In this two-hour thriller, the drama isn't as captivating, partially because the supporting characters rarely get as much time to develop as Rachel, who remains a captivating protagonist.
Blunt is excellent in the role, often looking like death. She's not only believable as the sad alcoholic, but she's also sometimes even heartbreaking and terrifying (a sequence with her talking to a mirror is fantastic). Blunt doesn't try to soften any of Rachel's edges; she's always sharpening them. Taylor does craft some visceral sequences (he pulls off the tricky ending), Alison Janney plays a great new addition to this story, and Danny Elfman's score raises the tension a little, but Blunt is what keeps The Girl on the Train entertaining. Her performance alone makes up for a few problems.
The Girl on the Train opens in theaters October 10th.