Solo Batman Movie Gets A Title; Ben Affleck Talks Deathstroke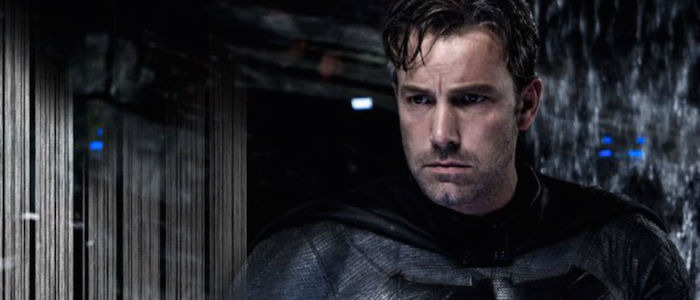 We still don't know exactly when Ben Affleck's solo Batman movie will hit theaters, but now we know what it'll be called when it does. The actor and director has revealed the film will be called The Batman, as has been rumored for years. In addition, Affleck has spoken a bit about Deathstroke (Joe Manganiello), who was recently revealed to be the villain of the movie. 
Affleck revealed the Batman title to The Associated Press. "The movie, I think, is going to be called The Batman," he said. "At least that's what we're going with now. I might change it." Affleck added, "We're working on the script. The script is going well. I'm really excited about it."
We first heard of The Batman as a possible title for the picture back in 2014, before Warner Bros. had even confirmed plans to make a Batman solo movie with Affleck. Heck, there were even rumors that the final piece of Christopher Nolan's Dark Knight trilogy could be called The Batman (though as we now know, Warner Bros. ultimately went with The Dark Knight Rises instead). It's a simple, classic title.
Not a lot is known about the plot of The Batman, but we did recently learn that Deathstroke would appear as the villain. Speaking with Collider, Affleck explained why he chose Deathstroke to appear in the movie.
He's a great villain because — I just had an instinctive feeling that he would match up with him well. You know, I'm a big admirer of that character as well, especially in the New 52 the way that they did Deathstroke, and I thought that it could work.
First introduced in the comics in the early 1980s, Deathstroke is the alter ego of Slade Wilson, a mercenary who joined the army at a young age. He has extensive martial arts and combat training, as well as a brilliant tactical mind, so he should prove a formidable foe for the Batman. Plus, thanks to an experimental serum he also boasts enhanced speed, stamina, endurance, reflexes, and healing.
In the New 52 books, Slade's reputation has started to slip and he is called back into action to restore his legacy. So like Affleck's Batman, he's a character who's been around the block a few times. Perhaps we'll even discover that the characters have some sort of shared history.
The Batman is expected to open sometime around 2018 or 2019. Affleck is currently working on the script with Geoff Johns, and will direct as well as star in The Batman. Before we get there, though, Deathstroke is expected to make his live-action big-screen debut alongside Affleck's Batman in Zack Snyder's Justice League, due out November 17, 2017.