FX's 'Archer' Ending After Season 10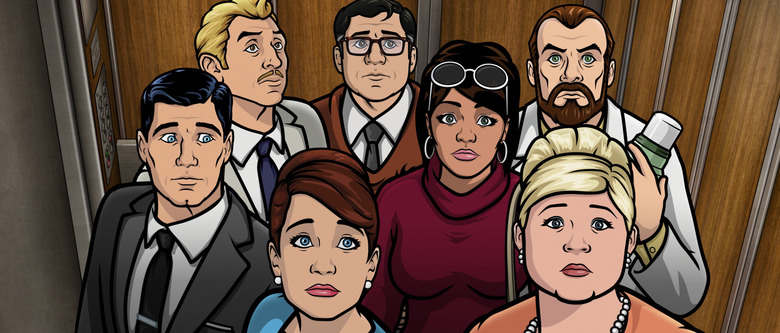 Over the summer, FX renewed its spy spoof Archer for not one, not two, but three seasons, bringing the total season count up to ten and keeping the show on air through about 2019. Once that season ends, though, it'll be lights out for Sterling and Lana and Malory and the rest of the gang. "The plan is to end Archer after season 10," series creator Adam Reed said in a recent interview.
Reed spilled the beans about the Archer end date on the Murmur podcast (via Splitsider):
The plan is to end Archer after season 10. I don't know that anybody has talked about that, but that is definitely my plan – to do 8, 9, and 10 and they're gonna be each shorter seasons of just eight episodes – and then wind it up.
I was gonna end it after 8, but then I had sort of a brain explosion of a way that I could do three more seasons and really keep my interest up. So the three seasons that are coming up are gonna be pretty different from what has come before, and they're gonna be different from each other.
The first seven seasons of Archer consisted of 10-13 episodes each, but when FX renewed the show they confirmed that seasons eight through ten would have eight episodes each. Season eight will premiere in 2017 and seasons nine and ten will likely air in 2018 and 2019. Reed's reveal that he originally wanted to end the show after season eight may explain why it took FX longer than usual to get around to announcing the renewal.
Archer started out as a spy spoof, but it's really more of a workplace comedy than anything else. Reed hasn't been afraid to throw the occasional curveball to keep things interesting. Season five soft-rebooted the show as Archer: Vice, a Miami Vice-inspired satire that saw the main characters start their own drug cartel. The show reverted to its usual format in season six and then soft-rebooted again with season seven — this time as a sort of Magnum P.I. sendup, with the characters opening a detective agency.
It should be interesting to see what other surprises Reed has in store for us over the next three seasons, especially if the looming end date gives him more freedom to explore dramatic plot twists or pursue deeper character development. (But not too much deeper, hopefully, because these characters' unrepentant assholery is why we love them.) Heck, maybe Reed and producer Matt Thompson will even try out the live-action idea they've tossed around in the past. Anything's possible with this show, especially as we inch closer to the end.