Daniel Craig Still The "First Choice" To Play James Bond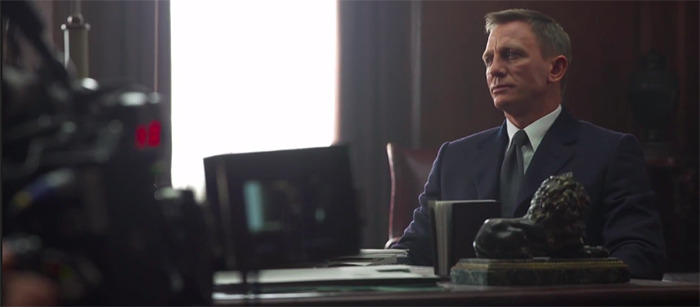 It's been fun to speculate about who the next James Bond could be, especially since the current Bond has said on the record that he'd rather slash his wrists than play Bond again. However, any predictions may be premature at this point. According to Callum McDougall, who's executive produced all the Daniel Craig Bond films to date, Craig remains "absolutely the first choice" to play 007 in the next film. 
McDougall touched upon the future of the Bond franchise during an appearance on BBC Radio 4's Today program (via Deadline). Asked whether Craig would return as Bond, McDougall responded, "I wish I knew." But he made it very clear that he and the team at Eon Productions are hoping Craig will. "We love Daniel. We would love Daniel to return as Bond," he said. "Without any question he is absolutely Michael G. Wilson and Barbara Broccoli's first choice. I know they're hoping for him to come back."
Craig has confirmed he is contracted for one more Bond movie, and he's since tried to downplay the whole "slash my wrists" thing, so it's not completely crazy to think he might return. While he does have a few other projects lined up, including the Showtime miniseries Purity, it doesn't sound like they'll necessarily prevent him from reprising the Bond role if he really wants to.
But Craig does not sound like he really wants to. The star seems to hate his most famous character, and has said that if he does do another Bond movie, "it would only be for the money." And for what it's worth, his good friend Mark Strong has said another Daniel Craig James Bond movie is "probably never going to happen." Meanwhile, there are reports that the producers have quietly started talking to potential replacements.
Although it's not unheard of for actors or producers to play coy with the press as a negotiation tactic, Craig's comments seem to go beyond mere strategizing. He seems genuinely eager to move on, to the point where he's willing to piss off his own bosses by criticizing his own character in public. He might get dragged back kicking and screaming yet, but it's hard to believe he's going to be happy about it.
It's easy to understand why the producers want him back. Craig helped revitalize the franchise and his films have been massive hits. Plus, they probably want to avoid the fan fatigue that comes with rebooting a franchise too quickly (remember Amazing Spider-Man?). But at some point, it may just be easier for both sides to go their separate ways. If that happens, we've got a few ideas about whom we'd like to see Eon hire next.