New 'Da Vinci Code' Sequel 'Origin' Will Hit Shelves In 2017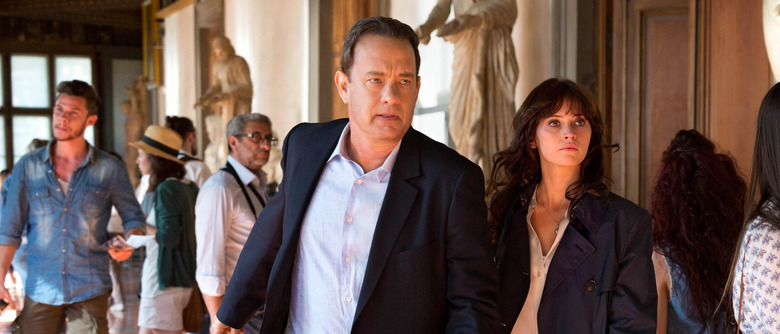 With next month's Inferno, Ron Howard and Tom Hanks will have adapted three of the four existing novels in Dan Brown's Robert Langdon series, which hit peak popularity 2003's The Da Vinci Code. But lest you worry they'll run out of material, Brown has another Robert Langdon book is on the way. Origin, his fifth novel about Harvard symbologist Langdon, will hit shelves in fall 2017. 
Brown's publisher Knopf Doubleday announced the new Da Vinci Code sequel novel in a statement released this week. The book will hit physical and digital shelves in the U.S. and Canada on September 26, 2017. The official description offers its own mystery, by which I mean it reveals basically nothing.
In keeping with his trademark style, Brown interweaves codes, science, religion, history, art and architecture into this new novel. Origin thrusts Harvard symbologist Robert Langdon into the dangerous intersection of humankind's two most enduring questions, and the earth-shaking discovery that will answer them.
Codes, science, religion, history, art and architecture — yup, sounds like a Robert Langdon mystery, all right. But beyond that, the description is impossibly vague. So could the title hold some clues? Might Origin be an origin story? Or is the title perhaps referring to the origin of life? Until Brown and company reveal more, feel free to speculate about what it could all mean.
The Robert Langdon book series launched in 2000 with Angels & Demons, though it really took off with the second novel, 2003's The Da Vinci Code. Those books were followed by The Lost Symbol in 2009 and Inferno in 2013. According to the publisher, Brown's novels have been translated into 56 languages and sold over 200 million copies worldwide.
The first film adaptation based on the novels was 2006's The Da Vinci Code, followed by 2009's Angels & Demons. The latter was reworked to follow The Da Vinci Code in the film franchise chronology, even though the Angels & Demons book takes place before the Da Vinci Code book. Inferno opens this fall, making The Lost Symbol is the only book in the series that has not yet been adapted to film. Each of the films so far has been directed by Howard and starred Hanks.
There is no word yet on whether Imagine Entertainment (which produces the movies) and Columbia Pictures (which distributes them) plan to make movies based on The Lost Symbol and now Origin. Inferno has inspired a lot of "they're still making those?" reactions, but clearly someone really liked the last couple installments — they have a combined global gross of $1.2 billion worldwide. If Inferno manages to escape the sequel curse that has felled so many big-budget pics this year, maybe an Origin movie won't be far behind.