Alfred Hitchcock Anthology TV Series In The Works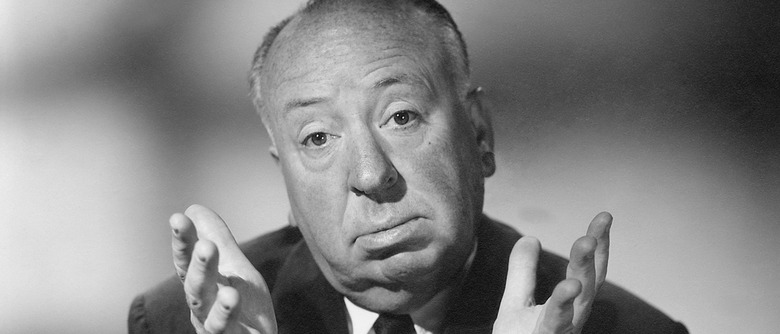 Why settle for remaking one movie by Alfred Hitchcock when you can borrow from the Master of Suspense for seasons upon end? Universal Cable Productions has just struck a deal with the Hitchcock estate to develop Welcome to Hitchcock, an anthology series that will be "in the spirit of the classic Hitchcock style and legacy." 
UCP announced the deal today. Welcome to Hitchcock will "reimagine" classic Hitchcock tales, with each season focusing on a single crime or mystery. Chris Columbus will direct the pilot, and executive produce alongside Michael Barnathan, Timmy Thompson, Todd Thompson, and the Hitchcock family. The statement is vague about which of Hitchcock's works will be adapted, though THR name-checks the films Psycho and The Birds and the television series Alfred Hitchcock Presents.
Said Dawn Olmstead, UCP's executive vice president of development:
Long after his death, Alfred Hitchcock continues to be one of the most celebrated directors and visionaries in the world, a master manipulator of the macabre. We're honored that the Hitchcock Estate has put its trust in our studio to pay homage to his work.
Katie O'Connell-Fiala chimed in on behalf of the Hitchcock Trust:
Our grandfather always collaborated with the best and the brightest to help shape his vision. We're confident that Universal Cable Productions will take great care in helping us to continue preserving his legacy.
Although Hitchcock died 36 years ago, he and his works have not faded from pop culture. Just in the past few years he's been the subject of two different biopics (Hitchcock starring Anthony Hopkins on the big screen and The Girl starring Toby Jones on HBO). Indeed, this isn't even the first time an NBCUniversal studio has created a show based on his work — Universal Television currently has Bates Motel, a loose prequel to Hitchcock's Psycho, airing over at A&E.
Welcome to Hitchcock fits in with the current trend of TV remakes. (The latest crop of freshman series includes TV versions of everything from The Exorcist to Lethal Weapon.) Plus, the anthology format could help Welcome to Hitchcock attract some interesting talent, the way it has for shows like Fargo and True Detective. And while a beat-for-beat remake of any Hitchcock classic is bound to get some fans grumbling, there are worse filmmakers for a show to take inspiration from.