'Sky Ladder' Trailer: "Cai Guo-Qiang's Next Creation Will Ignite The World"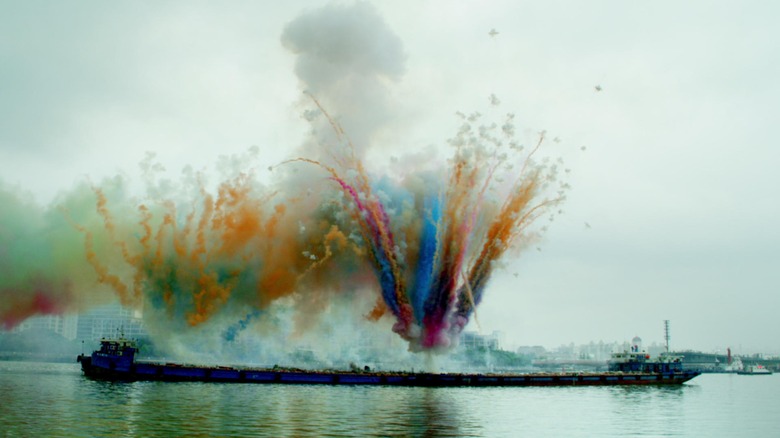 Next month, Netflix will be releasing a new documentary film titled Sky Ladder: The Art Of Cai Guo-Qiang. The film takes a look at a revolutionary new contemporary artist who creates art that is beautiful, explosive, and can only be experienced in a singular moment. Academy Award-winning filmmaker Kevin Macdonald's (The Last King of Scotland, State of Play, Touching the Void) film chronicle's Cai's journey to create his most ambitious piece yet, a 1,650 foot ladder of fire that will connect Earth with the universe. Watch the Sky Ladder trailer now, embedded after the jump.
Sky Ladder Trailer
I've never seen anything like the daytime fireworks that Cai employs in his work and am surprised at the beauty of it all. The film had its world premiere as Opening Night of the World Documentary Competition at the 2016 Sundance Film Festival, which I unfortunately missed. Netflix acquired Sky Ladder at the festival and is distributing it theatrically and online. It looks like a stunning documentary about the evolving world of contemporary art. I'm not sure what it is about art documentaries but they are some of my favorites: Exit Through The Gift Shop, My Kid Could Paint That, Tim's Vermeer, and Crumb. I'm excited to check this one out next month when it hits the streaming service.
Here are a few review quotes from those that did see the film at Sundance:
"Documentaries on artists are often static affairs...not so with Kevin Macdonald's film about Cai Guo-Qiang. The subject makes for a film that is literally explosive. Beautiful and touching."
– Frank Scheck, The Hollywood Reporter
"The spectacular visual displays of the Chinese-born artist Cai Guo-Qiang lend an undeniably cinematic razzle dazzle to 'Sky Ladder.' An involving portrait of this internationally renowned figure."
– Justin Chang, Variety
"Flamboyant and audience-engaging. Even the most art-averse cynic will recognize the blood, sweat and tears that went in to creating this strange and beautiful experience." – Jordan Hoffman, The Guardian
The official synopsis for Sky Ladder follows:
Cai's work spans East and West, human and cosmic, the playful and the profound. His signature gunpowder paintings pay homage to the Chinese roots of the explosive medium, while incorporating elements of chance and unpredictability. His massive explosion events actively engage audiences around the globe—from his seminal 1993 work that extended the Great Wall of China with six miles of gunpowder fuse; to the daytime colored fireworks that ripped through the deserts of Doha, to the astonishing opening and closing ceremonies of the 2008 Beijing Olympics. Told through the artist's own words and those of family, friends, colleagues, and critics, Sky Ladder traces Cai's meteoric rise from childhood in Mao's China to pre-eminent global artist. We witness as Cai struggles with how to affect social change through art, and navigate the compromises and complexities that arise when you've made it to the top. When you've gone as far as he has, how do you challenge yourself? If you're Cai Guo-Qiang, you continue to chase the ambitious dream that has eludedyou for 20 years—Sky Ladder—a 1,650 foot ladder of fire climbing into theskies, connecting heaven and earth. Sky Ladder: The Art Of Cai Guo-Qiang is the story of a unique artist at a pivotal moment in his life and times. Produced by Oscar-winner Fisher Stevens (THE COVE), Wendi Deng, and Hugo Shong.
Sky Ladder will play theatrically beginning on Friday, October 14th, 2016 in New York and Los Angeles for a one-week Oscar-qualifying run, in addition to simultaneously premiering it on the Netflix streaming service.
And here is the new poster for Sky Ladder: