Rogue One Bits: Jyn Erso's Mom, Jedha's Place In The Galaxy, A Helpful Franchise Timeline & More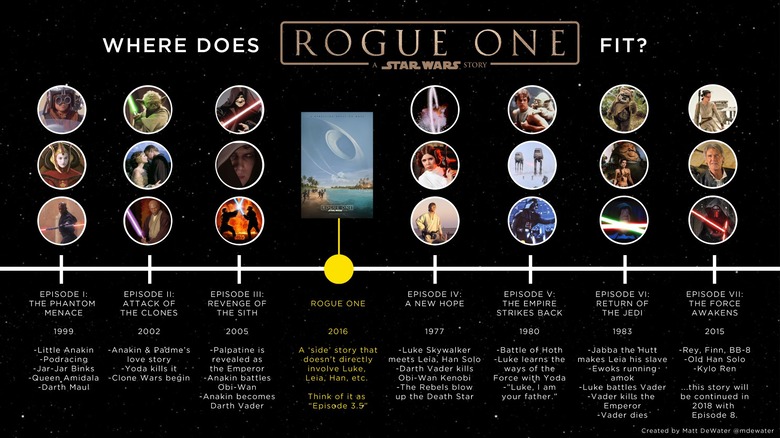 After the jump:
Valene Kane confirms she's playing Jyn Erso's mom.
Michael Giacchino is very excited to be scoring Rogue One.
Rogue One will be "edgier" than other Star Wars films, says Riz Ahmed.
The Rogue One toys won't repeat that whole #WheresRey kerfuffle.
Felicity Jones learned kung fu for Rogue One.
An official map reveals Jedha's location in the galaxy.
And more!
About that header image: If you're the kind of person who's reading Rogue One Bits, you're probably not the kind of person who needs an explanation as to how, exactly, Rogue One fits into the overall Star Wars timeline. But maybe you've got friends and family who are curious about the new Star Wars movie, but confused as to why this one doesn't involve Rey or Finn or even Luke or Leia.
In that case, feel free to pass along this easy-to-read timeline from Matt DeWater. I love how it includes concise bullet points about the major developments in each film, to help jog the memories of people who may not have revisited these films in a while. (And if your friend seems resistant to the idea of watching a Star Wars movie that features no familiar faces whatsoever, feel free to let slip that Darth Vader will be making an appearance in this one.)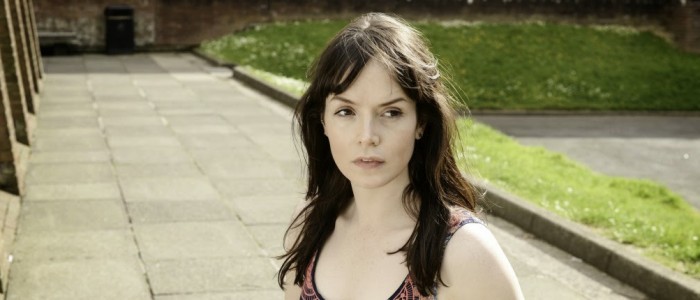 We've already got basic character details for the main cast of Rogue One, but as December approaches we're learning more about some of the supporting players as well. Like Valene Kane, who's just confirmed she's playing Jyn Erso's mother Lyra Erso. The actress, who is best known in the U.S. for co-starring in BBC's The Fall, gushed about her experience to Belfast Live. "I grew up watching Stars Wars and I didn't believe it was happening until I was filming in Iceland," she said. "It has a really edgy independent vibe."
Thx for all the great @twitter shout-outs regarding @RogueOneMovie !Thrilled to be a part of the Star Wars family. pic.twitter.com/CaQW1dqK1Z

— Michael Giacchino (@m_giacchino) September 16, 2016
A couple weeks ago we learned Michael Giacchino would be scoring Rogue One, replacing the previously announced Alexandre Desplat. There's reason to be both excited and worried about the news, but for what it's worth Giacchino seems eager to take on the challenge. The composer tweeted that he was "thrilled" to join the project (above), while also giving a shoutout to Desplat (below).
Also want to say I love Alexander Desplat's work and was looking forward to his score. It's a crazy biz but sometimes schedules just clash.

— Michael Giacchino (@m_giacchino) September 16, 2016
As the first Star Wars movie to fall outside the ongoing Skywalker family saga, Rogue One represents new territory for the franchise. And with that new territory comes a new tone, according to star Riz Ahmed. "The film is about complex characters and loyalties and murky pasts," the actor told The Wrap. "The film is a little edgier, with people making these huge compromises. History isn't always clear."
That murkiness also applies to Ahmed's character Bodhi Rook, a former Imperial pilot who joins the Rebel cause — but continues to sport Imperial insignia on his uniform, as a reminder of his past. Ahmed describes him as "a little intense, a little volatile," and as someone "who has to question his loyalties as the story progresses."
Remember the whole #WheresRey kerfuffle from last year? Fans were none too pleased with the fact that Rey seemed curiously absent from much of the Force Awakens merchandise, despite her being the protagonist of the movie. Well, Star Wars toymakers and retailers have heard your complaints, and promise they won't repeat their mistakes this year.
According to AdAge, Hasbro has Jyn Erso "front and center" in its Rogue One toy lineup, and Target's digital ad campaign prominently features several real-life female fans. And the toy industry seems confident that boys as well as girls will respond well to the character. "Young boys will embrace the female hero in a way they wouldn't have 30 or 40 years ago," said a consultant. "Today's boys will actually look at a female hero and say, 'Yeah, she can be powerful.' Their masculinity is not threatened."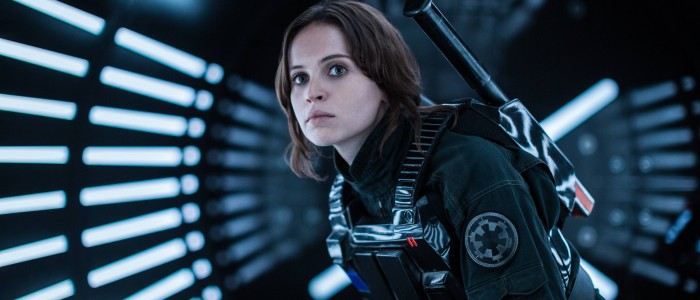 Oh, and speaking of powerful female heroes, it sounds like Felicity Jones has been beefing up her action bonafides, even learning kung fu for the Jyn Erso role. The actress told Total Film (via Games Radar):
I've never done this level of physical preparation for something. Particularly for Rogue One where I was training every day and doing kung fu rehearsals on a daily basis. But that's part of the reason I wanted to do it, because it was very different from what I've done before.
The marketing materials haven't shown Jyn engaging in a lot of hand-to-hand combat, but hopefully she'll have a chance to let her martial arts skills shine in the film itself.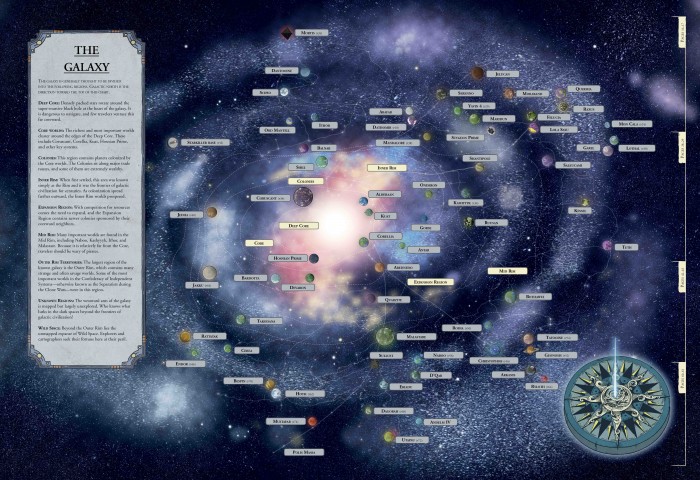 We've already covered when Rogue One fits into the Star Wars universe; now a new map offers some clues about where. Jedi Bibliothek (via Jedi News) got their hands on the upcoming Star Wars Galactic Atlas reference book, which reveals Jedha's location in the galaxy. It appears to be just a hop and a skip away from Rey's homeworld of Jakku, so make of that what you will.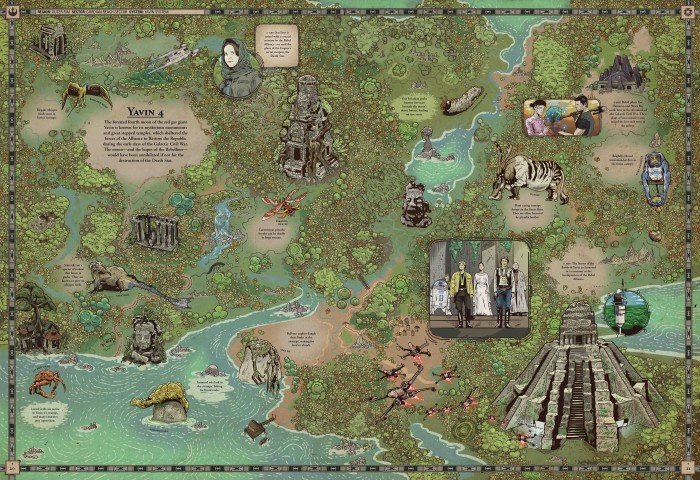 The gorgeously detailed Yavin 4 map from the Star Wars Galactic Atlas also makes reference to Rogue One, showing Jyn Erso with a caption explaining her mission in the movie. But mostly it's just really pretty to look at, with little blurbs about all the weird and wonderful creatures you'll find on this moon. Tim McDonagh did the illustrations.
Working on a Star Wars film means seeing things daily that make my fan-self squeal. Saw something today that will make folks wet themselves

— Hal Hickel (@halhickel) September 17, 2016
Finally, let's wrap up this edition of Rogue One Bits with an intriguing but very mysterious tease from ILM animation director Hal Hickel. He has since clarified that he's talking about Rogue One, but beyond that it's anyone's guess whom he's talking about. Maybe he just wants to warn us all to wear adult diapers to the theater in case we actually do wet ourselves.