'Coming Through The Rye' Trailer: Alex Wolff Goes Searching For J.D. Salinger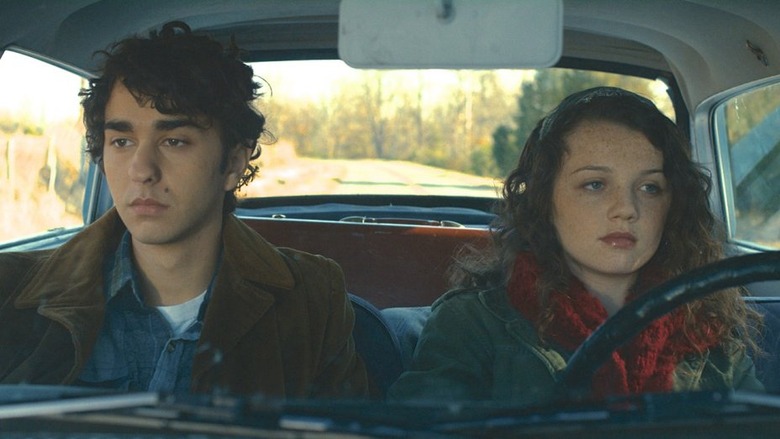 63-year-old James Steven Sadwith makes his feature directorial debut with Coming Through the Rye. Up until this point in his career, Sadwith has mostly worked in television. He directed Sinatra and the Jonathan Rhys Meyers-led Elvis, and he also created the crime anthology series Gun. Sadwith's first movie for the big screen is based on a chapter of his life, when he, as a teenager, went looking for the famously reclusive J.D. Salinger (played by Chris Cooper).
Below, watch the Coming Through the Rye trailer.
James Steven Sadwith did eventually find the late J.D. Salinger at the author's home in New Hampshire. In the film, it's 16-year-old Jamie Schwartz (Alex Wolff) searching for the writer of the classic The Catcher in the Rye. Jamie wants to play Holden Caulfield in a stage adaptation of Salinger's novel, so he goes looking for him to get his permission. Along for Jamie's journey is DeeDee Gorlin (Stefania Owen), and the two of them experience their own coming-of-age story together as they search for Salinger.
Here's the Coming Through the Rye trailer:
The film has played a variety of film festivals over the past year. There aren't a ton of reviews online, but the few that are available praise Coming Through the Rye as a familiar but successful drama, benefiting greatly from Wolff (brother of actor Paper Towns star Nat Wolff), Owen, and Cooper's performances. That looks to be the case, based on the trailer. The footage is cut together in a way that makes it look like finding Salinger wasn't actually all that difficult. Since it's Chris Cooper, you have to show him soon in the trailer to get a few more butts in seats, but it does feel like you get the beginning, middle, and end of this story from the trailer.
Here's the official synopsis:
Based on the Emmy Award-winning filmmaker's own true story, 16-year-old Jamie Schwartz (Alex Wolff) wants desperately to be a worldly adolescent. Unhappy at his all-boys boarding school, his life raft is the belief that he will someday play Holden Caulfield—the complex and alienated main character from the iconic novel The Catcher in the Rye—on Broadway and in the movies. He adapts the novel as a play and runs away to the mountains of New Hampshire to search for the book's reclusive author, JD Salinger (Academy Award winner Chris Cooper). Along the way he is picked up by a local girl, DeeDee Gorlin (Stefania Owen). Their odyssey and the events that follow are a journey into the meanings of friendship, sex, love and loss.
Coming Through the Rye opens in theaters October 14th.