Sony's Valiant Comics Universe To Kick Off With 'Harbinger'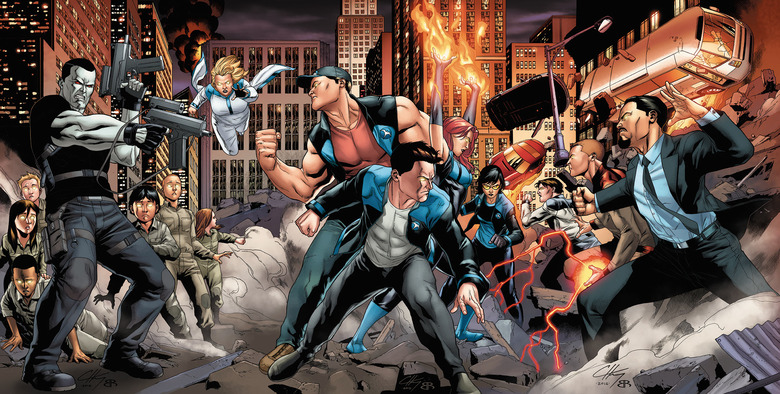 After trying and failing to expand its Amazing Spider-Man franchise, Sony finally let the webslinger join the Marvel cinematic universe with Disney's Captain America: Civil War. But it hasn't given up the idea of launching a comic book superhero universe of its very own.
Sony is moving forward with plans to build a Valiant Comics shared universe, moving up Harbinger so it will be the first film in the franchise. The previously announced Bloodshot will now be the second installment, though its title character will first be introduced in Harbinger. The studio has already mapped out a five-film series that culminates in a Harbinger Wars crossover event film. 
TheWrap reports on Sony's plans for a Valiant universe. The studio recently renewed its option on Harbinger and is now moving full speed ahead on the picture. Eric Heisserer, whose recent credits include the horror flick Lights Out and the cerebral sci-fi drama Arrival, is writing the script. Most of the details are still under lock and key, but word is it will feature Bloodshot as the villain. The character will then resurface a year later in his own movie, also scripted by Heisserer. David Leitch and Chad Stahelski (John Wick) were previously attached to direct the Bloodshot film, but are not mentioned in the latest report.Harbinger centers on Peter Stanchek, a teenage runaway with telekinetic powers. Bloodshot follows a man who is resurrected through cutting-edge nanotechnology, and turned into a nigh-unstoppable killing machine assigned with rounding up "harbingers" like Stanchek. The Valiant universe could also encompass many other characters from the comics including Livewire, the H.A.R.D. Corps strike team, and the Generation Zero teenage superhero team. Fan favorite Faith Herbert (a.k.a. Zephyr), is said to have a "prominent" role in the Harbinger script.
So far, Sony's strategy for their Valiant franchise sounds a lot like Marvel Studios' Phase One. On the one hand, Marvel's had more success than anybody at the whole "superhero shared universe" thing, so it makes sense that Sony would want to follow their template. On the other hand, the state of Warner Bros.' DC films and 20th Century Fox's Marvel films indicate that replicating that formula is easier said than done. Both have had some wins, but neither has proven as robust or resilient as Disney's Marvel cinematic universe.
And while Valiant Comics has a devoted fanbase — not to mention, according to The Wrap, the third-largest collection of superheroes after Marvel and DC — their characters are hardly household names the way Batman or Wolverine are. Sony faces the challenge of convincing audiences to get invested in yet another superhero universe, populated by characters who will be unfamiliar to most mainstream moviegoers. The best-case scenario is that Sony rises to the challenge by using that unfamiliarity to surprise viewers, and serve up the kind of stories that Marvel and DC can't or won't.