When Will Ben Affleck's 'Batman' Movie Be Released?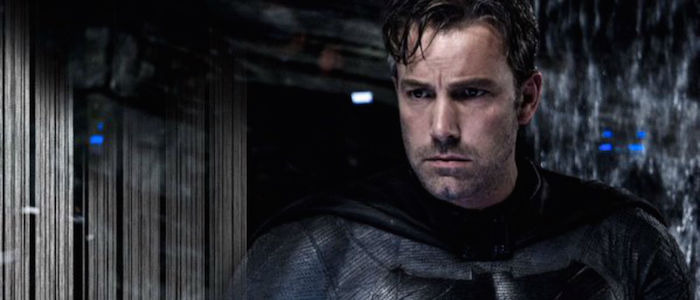 A Batman solo movie was never formally announced. We first heard rumblings that Ben Affleck was co-writing and might direct a solo adventure featuring his Justice League character. Then Warner Bros executives casually mentioned the project was happening at CinemaCon. But even when I was on the set of Justice League this past June, Affleck was non-committal about the project, telling us that he isn't ready to make a movie "until there's a script that I think is good."
But earlier this month the actor/director felt confident enough to tweet out a screen test with Joe Manganiello as Deathstroke, so it sounds like the script has hit the "good enough" tier. And while Affleck mentioned that Warner Bros has a tentative date for the movie, we have never heard when we might expect to see Batman's solo detective story hit the big screen. Now Time Warner CEO Jeff Bewkes gives us some idea of when we can expect to see Ben Affleck's Batman movie.
Time Warner CEO Jeff Bewkes said the following while speaking at the Goldman Sachs Communacopia (via):
"Ben announced a Batman movie [that] he's going to direct, star, write for – I think it's a year and a half out."
That gives us some clues as to the Batman release date. But what remains unclear is if Bewkes was referring to a film production start date or when they expect the film to be released.
Here is the current schedule of upcoming DC movie releases:
Wonder Woman: June 2, 2017 (Post-production)
Justice League: November 17, 2017 (Filming)
The Flash:  March 16, 2018 (Pre-production)
Aquaman: July 27, 2018 (Pre-Production)
Untitled DC FilmL October 5, 2018 (In development)
Shazam: April 5, 2019 (In Development)
Justice League 2: June 14, 2019 (In Development)
Untitled DC Film: November 1, 2019 (In Development)
Cyborg: April 3, 2020 (In Development)
Green Lantern Corps: July 24, 2020 (In Development)
And the undated DC movies that we know are currently in development include Ben Affleck's solo Batman movie, a Man of Steel sequel, Suicide Squad 2, and a possible Harley Quinn spin-off movie. I would expect that Batman will fill one of the dates above, either one of the two Untitled DC film slots or taking one of the pre-existing release dates.
I guess that if they are in the screen test phase of pre-production that eighteen months out would be the release date. But eighteen months from now is close to March 16th, 2018, which was the release date for The Flash. I think The Flash will be the standout character of Justice League, in the same way Spider-Man kinda stole Captain America: Civil War, so I doubt Warner Bros would push that film back. Aquaman is currently scheduled for July 27th, 2018, and this movie could easily be pushed back if needed.
Warner Bros. also has two release dates set for Untitled DC movies on October 5th, 2018 and November 1st, 2019, either of which could belong to a Batman solo movie. A film usually takes about a year or so from filming to release, so whatever is released in November 2019 will probably begin filming in mid-2017, which could fit the 18-month timetable that Bewkes mentioned.