'Dog Eat Dog' Trailer: Nicolas Cage And Willem Dafoe Got A Baby To Steal In Paul Schrader's Latest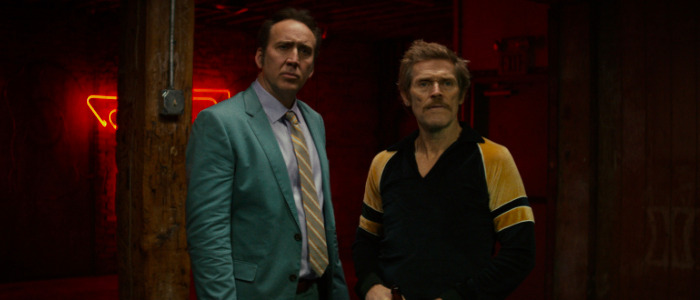 So far Paul Schrader and Nicolas Cage's second collaboration, Dog Eat Dog, has divided critics, but they've still been kinder to the duo's latest film than they were to Dying of the Light, a butchered movie that got ripped out of Schrader's hands. That unfortunate experience for the director helped bring him and Cage to Dog Eat Dog. For their second film, Schrader was intent on making it under the right circumstances, so he secured final cut for this comedic crime thriller. Also starring is Willem Dafoe, who's no stranger to working with Schrader, having starred in Light Sleeper and Auto Focus.
Below, watch the promising Dog Eat Dog trailer.
The film, which is written by Matthew Wilder and based on a novel of the same name by Edward Bunker, follows Mad Dog (Dafoe), Troy (Cage) and Diesel (Christopher Matthew Cook). They're three desperate ex-cons offered a major job by a local mob boss, played by Schrader. Against their better judgment, the three men agree to the kidnapping plot, which, of course, does not go according to plan.
Here's the Dog Eat Dog trailer (Source: Indiewire):
Based on the reviews out of the Cannes Film Festival and the Toronto Film Festival, Dog Eat Dog is an unhinged crime picture. Schrader's latest looks and sounds like a brutal, slightly mad vision that might appease his fans, especially the ones left disappointed by his most recent work, including Dying of the Light and The Canyons. The trailer sells Dog Eat Dog as another unfiltered, cruel and unusual piece of work from the filmmaker, and let's hope we get just that and more this November when the film is made available.
Here's the official synopsis:
When three desperate ex cons are offered a job by a Mexican mob boss, they know they should refuse, but the payoff's too rich to turn down. All they have to do is kidnap the kid of a colleague who's ripping the mob boss off. But the abduction goes awry when the kidnappers are forced to kill an unexpected intruder who turns out to be the child's father – the very man the mob boss intended to extort. Now unwelcome in the underworld and on the run for murder, the ex cons find themselves as the most wanted fugitives in the City of Angels. And each vows that none of them will ever go back to prison. No matter what the cost.
Dog Eat Dog opens in limited release on November 4th. A week later the film hits VOD.