Martin Scorsese's 'Silence' Snags December Release Date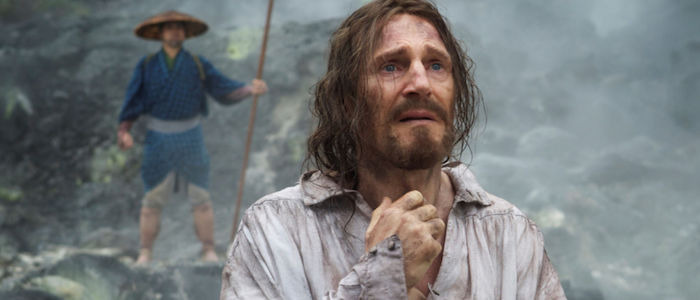 Paramount Pictures will have one more gift waiting for us under the tree this Christmas. The studio has just announced that Martin Scorsese's Silence will hit theaters this December for an awards-qualifying run before expanding nationwide in January. Liam Neeson, Andrew Garfield, and Adam Driver lead the drama about Jesuit priests in feudal Japan. 
Silence is officially set for limited release on Friday, December 23. That puts Neeson in the odd position of competing against himself, as he also stars in A Monster Calls which opens on the same day. The holiday season tends to be crowded with new releases and there are several other films opening right within days of Silence, including Assassin's Creed, Passengers, Sing, and Patriots Day on December 21 and Fences, Gold, and Toni Erdmann on December 25. No exact date has been specified for Silence's January wide release.
The year-end release date suggests Paramount sees a potential awards contender in Silence, which seems quite reasonable considering the talent involved. Silence has been in the works for over two decades — so long, in fact, that one of the producers even filed a lawsuit against Scorsese at one point for putting it off yet again to make The Wolf of Wall Street. Shooting finally took place in 2015, leading some to speculate that Silence might debut at Cannes or one of the major fall festivals... and then, when it missed those, start to wonder if it might skip 2016 altogether and arrive in 2017.
Scripted by Scorsese and Jay Cocks (Gangs of New York) and based on the novel by Shusaku Endo, Silence follows two young Jesuits, Sebastião Rodrigues (Garfield) and Francisco Garrpe (Driver) as they arrive in Japan in 1638 to investigate reports that Rodrigues' mentor, Cristóvão Ferreira, has renounced his beliefs. As they set out to spread their beliefs, they discover that the local Christian population has been driven underground by persecution.