'Doctor Who' Spinoff 'Class' Sets Premiere Date; Peter Capaldi To Guest Star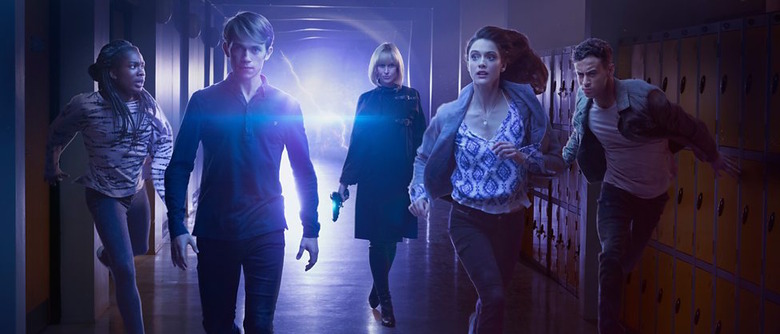 Good news, Whovians: we now know exactly when Class will be in session. U.K. fans will be able to catch the Doctor Who spinoff starting October 22 on BBC Three. U.S. fans, unfortunately, will have to wait a bit longer, as Class won't hit BBC America until spring 2017.
Whenever it reaches your country, though, you can count on the Doctor himself to help get the party started. Peter Capaldi is confirmed to appear in the Class series premiere, which is called "For Tonight We Might Die." Patrick Ness (A Monster Calls) created the series and is executive producing with Doctor Who's Steven Moffat and Brian Minchin. 
Set in London's Coal Hill School (a location which has been part of the Whoniverse since the 1960s), Class chronicles the ups and downs of four students — Charlie (Greg Austin), April (Sophie Hopkins), Ram (Fady Elsayed), and Tanya (Vivian Oparah) — and their physics teacher Miss Quill (Katherine Kelly). How exactly the Doctor gets mixed up with all of them in the first episode remains unclear.
The kids juggle the usual teen stuff like romance, friendship, family, and schoolwork along with less usual teen stuff like the possible end of the world as we know it. Turns out the Doctor's frequent visits to the school have thinned the walls of space and time, and now a sinister something is out to get them. In other words, it's basically "a British Buffy," as Moffat put it.
BBC announced today that the first two episodes of Class, "For Tonight We Might Die" and "The Coach With the Dragon Tattoo," will hit BBC Three on Saturday, October 22.
UK fans! It's the news you've been waiting for...#ClassDW eps 1 & 2 drop on @bbcthree on Saturday 22 October! pic.twitter.com/tu3Mh1TmuW

— Class (@bbcclass) September 23, 2016
But American audiences will have to wait until spring 2017.
#ClassDW premieres on @BBCAMERICA alongside #DoctorWho in 2017, with Peter Capaldi appearing in the first episode as the Doctor. pic.twitter.com/vySsuyXv2B

— BBC America (@BBCAMERICA) September 23, 2016
In any case, Capaldi will be there for the first roll call.
📢CONFIRMED!
Peter Capaldi will guest star as the Doctor in #ClassDW's opening episode 🙌#DoctorWho pic.twitter.com/u68KL99Tws

— Class (@bbcclass) September 23, 2016
It seems a bit odd that we haven't seen much promotion for Class — we haven't even seen a proper trailer yet, despite the fact that this show debuts in the U.K. in about a month — but we can surely expect to get much more when Class hits New York Comic-Con. In the meantime, check out a couple of behind-the-scenes clips featuring Ness and Kelly.