'Cargo' First Look: Martin Freeman Stars In The Zombie-Infested Drama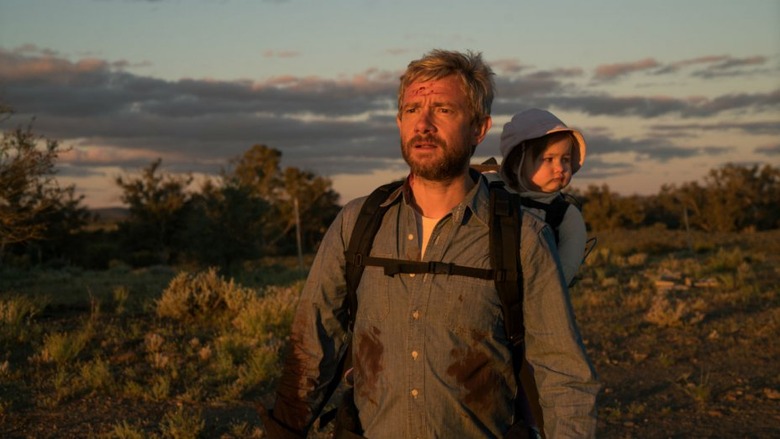 Yolanda Ramke and Ben Howling's short film Cargo has close to 11 million views on youtube. The Australian filmmaking duo have now adapted their hit short into a feature film of the same name. Ramke and Howling's father-daughter zombie drama stars Martin Freeman (Sherlock), playing a dad desperately trying to get his daughter to safety before the virus turns him.
Below, learn more about Cargo and get your Cargo first look.
Writer/co-director Ramke and Howling shot the short film, which cost them around $3,800 to make, in a total of two days. The short ended up playing at 17 international festivals, including the Tropfest Film Festival, where it was a finalist. Tropfest featured the short film on their YouTube page, which led to the short going viral and Ramke and Howling landing meetings with agents. Within a year of making the short, Ramke and Howling began developing Cargo as a feature film.
Here's the seven-minute short:
Ramke and Howling are making their feature directorial debut with Cargo. Their film stars Freeman, David Gulpilil (Charlie's Country), Anthony Hayes (The Light Between Oceans), Susie Porter (Puberty Blues), newcomer Simone Landers, and Caren Pistorius, an actress who did splendid work in Slow West. The Hollywood Reporter ran the Cargo first look, which you can see above. Freeman is Andy, a father who has 48 hours to find a proper guardian for his infant daughter in rural Australia after a zombie pandemic. The infected Andy may find a chance of survival for his daughter in an Aboriginal tribe. But to receive help from the tribe, he'll first have to gain the trust of an Indigenous girl described as being "on a tragic quest of her own."
According to THR, Freeman was initially hesitant about the project; his agent said, "genre's not really his thing." After reading Ramke's script, though, the actor was moved by the story, which he doesn't label a zombie movie. In an interview with The Sydney Morning Herald, Freeman says Cargo is "a film with some zombies in it."
Ramke and Howling originally didn't envision a Cargo feature film, but they ended up feeling like they had more to say with this father-daughter story. The directing duo is currently shooting tbe picture in South Australia. Cargo is produced by Causeway Films' Samantha Jennings and Kristina Ceyton (The Babadook) and Addictive Pictures' Russell Ackermann and John Schoenfelder. A 2017 release date is expected.