Tom Holland's Secret Role In 'A Monster Calls' Revealed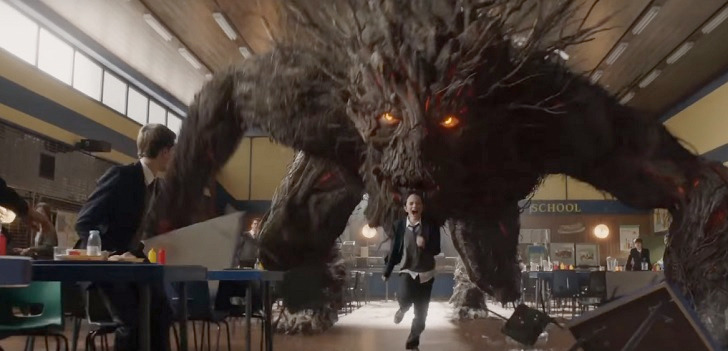 These days, Tom Holland is best known as the new Spider-Man. But in between his web-slinging exploits in Captain America: Civil War and next year's Spider-Man: Homecoming, you'll get to catch his work in a very different kind of movie. Only you won't actually be able to see him or hear him.
As revealed by director J.A. Bayona, Holland helped out with A Monster Calls, the cancer drama that nearly drowned TIFF in tears. However, he didn't have a traditional role per se. As it turns out, Holland was a stand-in for the monster, who is voiced by Liam Neeson. 
Based on the novel by Patrick Ness, A Monster Calls centers on a young boy named Conor (Lewis MacDougall) struggling with bullies at school and his mother's terminal cancer at home. He conjures a monster in the form of a giant yew tree, who tells the boy fables intended to help him cope. In exchange, Conor must tell the tree his deepest, darkest secret.
The Hollywood Reporter got the skinny on the Tom Holland A Monster Calls role from Bayona himself. While Neeson provides the rumbling, ancient-sounding voice for the monster, Holland helped bring him to life on set. "He was the stand-in for the monster," confirmed the director. Apparently Holland's presence proved quite helpful to 14-year-old MacDougall, who added, "It gave me something to look at when I'm talking to the monster."
In the finished feature, the monster is an entirely CG creation. But it's not unusual for films with animated characters to have a live person standing in for those characters on set. A Monster Calls shot in 2014, so Holland likely finished up before he had to report for duty on Civil War. In my TIFF review of A Monster Calls, I spoke highly of MacDougall, who spends much of the movie interacting with the CG monster; now we know one of the secrets to his success.
Holland is not listed among the cast in the end credits for A Monster Calls. Instead, his contribution is acknowledged in the "thanks to" section. Holland had done the project as a favor to Bayona, with whom he'd worked on 2012's The Impossible. The tsunami drama was Holland's first live-action feature film, and though he was just 16 at the time of its release Holland earned a lot of praise for his work opposite Ewan McGregor and Naomi Watts.
Holland is currently shooting Spider-Man: Homecoming, which is due out July 7, 2017. Outside of the Marvel universe, his upcoming credits include James Gray's The Lost City of Z, which debuts next month at the New York Film Festival, and the medieval drama Pilgrimage, which also stars fellow Marvel superhero Jon Bernthal. Bayona, meanwhile, is about to get very busy with his own big-budget blockbuster, the Jurassic World sequel.
A Monster Calls hits theaters December 23 in the U.S.