Daniel Radcliffe Would Like To Get Killed Off On 'Game Of Thrones'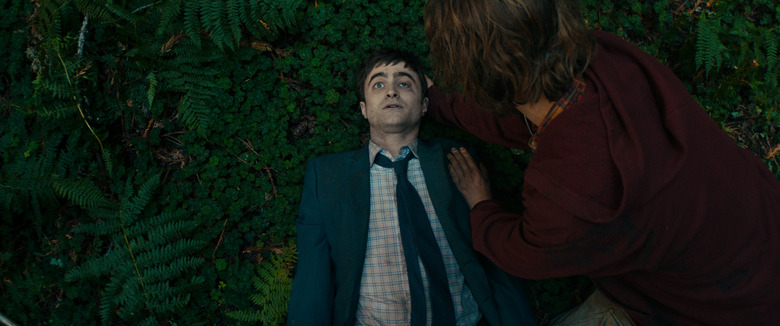 The Boy Who Lived is ready to die, at least if it means he gets to go to Westeros. Over the past six seasons, Game of Thrones has cast a huge number of British actors — young and old, obscure and world-famous — and now Harry Potter star Daniel Radcliffe wants in as well. Even (or maybe especially) if it means meeting a grisly end onscreen. 
Digital Spy got Radcliffe on the record about his desire to pop in on Game of Thrones. "I would love to," he said. "If they want to just bring me in and fucking kill me, I would be so happy to do that." Hey, if this show could get Ian McShane in for a one-and-done cameo last season, why not bring the world's most beloved boy wizard in for an episode or two?
If Radcliffe gets his wish, he'll be in good company. Several Harry Potter alums have gone on to appear in Game of Thrones, including Natalia Tena (Tonks in Harry Potter, Osha on Game of Thrones), David Bradley (Filch in Harry Potter, Walder Frey on Game of Thrones), Ciarán Hinds (Aberforth Dumbledore in Harry Potter, Mance Rayder on Game of Thrones), Freddie Stroma (Cormac McLaggen in Harry Potter, Dickon Tarly on Game of Thrones), and Michelle Fairley (Hermione's mom in Harry Potter, Catelyn on Game of Thrones). And the list keeps growing. Game of Thrones season 7 recently cast Jim Broadbent, who played Horace Slughorn in Harry Potter.
Aside from a brief and bloody stint on Game of Thrones, though, Radcliffe doesn't sound all that eager to move to television:
I've recently read a couple of really good TV pilot scripts. But then it's signing on for seven years. Right now, I have a little bit of freedom. So if I read a script for something that's filming next year, I don't have to turn it down because I'm not available — which I did, for a long time.
Considering Radcliffe spent over a decade working on the Harry Potter film series, it seems understandable if he's skittish about signing on for another long-term commitment. Besides, it's hard to mind when his movie career has been so interesting as of late. Radcliffe is coming off of one of the best performances of his career in Swiss Army Man (yes, I'm being serious — he is really, really good as the farting corpse), and also had Now You See Me 2 and Imperium out this year.
Game of Thrones will return for season 7 in summer 2017, with or without Radcliffe.