'Blue Jay' Trailer: Mark Duplass And Sarah Paulson Play Former High School Sweethearts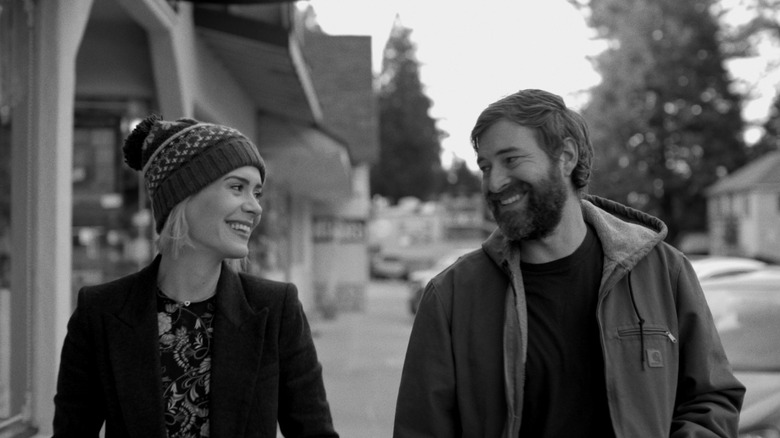 The Duplass Brothers have a four-picture deal with Netflix. Last summer, the streaming service announced they'd finance four movies produced by Jay and Mark Duplass through their production company Duplass Brothers Productions. Unlike Netflix's Adam Sandler movies, however, the brothers' films will first go to theaters. The first film the Duplass brothers have produced for Netflix is Alex Lehmann's feature directorial debut Blue Jay, which stars Duplass and recent Emmy winner Sarah Paulson (The People v. O.J. Simpson: American Crime Story).
Below, watch the Blue Jay trailer.
Duplass and Paulson star in the black-and-white romance as former high school sweethearts. After 20 years of no contact, Jim (Duplass) and Amanda (Paulson) coincidentally bump into each other at their old hometown grocery store. The two begin to reconnect in this Duplass-written story. Before directing Blue Jay, Lehmann was a camera operator, working on shows like Last Comic Standing and, for 34 episodes, Mark Duplass-starring FX series The League.
Here's the Blue Jay trailer originally from Entertainment Weekly:
Blue Jay is the first film under two deals the Duplass brothers have recently made. The indie distribution company The Orchard signed a seven-picture deal with Mark and Jay Duplass. First, the distributor will release Blue Jay theatrically before it's made available on VOD and later to stream on Netflix. The film, which was shot in one week, received positive reviews at the Toronto International Film Festival, with Duplass and Paulson's performances, in particular, being praised. They look believable, charming, and potentially heartbreaking as the former famous high school lovebirds. They're also extremely likable actors too, so an intimate, dialogue-heavy 85-minute dramedy with those two is enticing.
Here's the official synopsis:
Former high school sweethearts Jim (Mark Duplass) and Amanda (Sarah Paulson) have been out of touch for more than 20 years — but by sheer coincidence, they run into each other at a grocery store back in their alpine hometown of Crestline, California. Jim's mother has died and he's here to put her house on the market. Amanda is visiting her pregnant sister. They get to talking, first over coffee, then over beer and jellybeans. Before they know it they're at Jim's mother's house, where everything sends them spiraling back into the past. Jim and Amanda's lives have taken different directions, yet here they are, reconnecting like nothing has changed. Alex Lehmann's feature debut is a tender, wise chamber drama about finding yourself adrift in mid-life, longing for something essential that you fear has been lost.
Blue Jay opens in limited release on October 7th and hits VOD four days later.