'Star Wars Rebels' Season 3 Clips: The Allure Of The Dark Side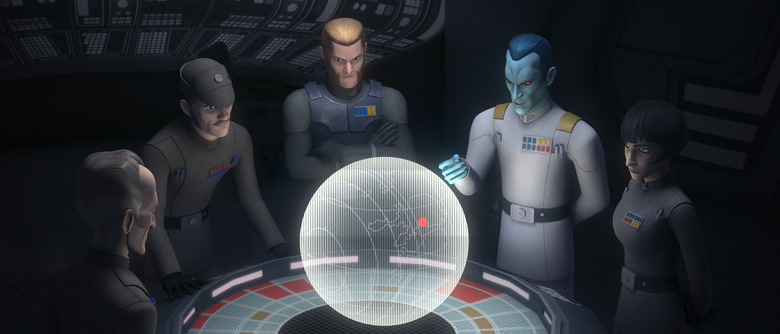 After nearly six months of waiting, we are now just two days away from the season 3 premiere of Star Wars Rebels. But if patience isn't your strong suit (and who could blame you, given all the exciting stuff about to go down next season?), Disney XD has dropped a couple new clips for you to pore over while you wait. In one, Ezra (Taylor Gray) consults a Sith Holocron, while in another, Ezra and Hera (Vanessa Marshall) go undercover and find themselves face-to-face with Grand Admiral Thrawn (Lars Mikkelsen).
Watch the Star Wars Rebels season 3 clips below. 
Thrawn's voice is great. I think I could listen to this guy threaten heroes all day. While the blue-skinned Imperial officer is new to the show, he'll be a familiar figure for longtime Star Wars fans. The character was first introduced in the Star Wars books published in the 1990s, and then relegated to non-canon "Legends" status when Disney took over the Star Wars franchise a few years ago. But the Mouse House knows better than to throw the baby out with the bathwater, so they're reinstating him to the canon with his Rebels appearance.
As for Ezra, don't assume that just because Star Wars Rebels has a young audience, it's afraid to embrace the dark side. At Star Wars Celebration this summer, series creator Dave Filoni told our own Peter Sciretta that Star Wars Rebels could (and might) put its characters through the wringer:
You know I would say absolutely you can. You can kill off characters. You can turn them [to the dark side] if it serves the story. That's something George [Lucas] always warned me about. You know, if you do this, do it for a reason. A reason that kids will understand. But don't just do it to do it. Which is sometimes a hard thing not to do, to be tempted by. But, you know, we'll see. It's good to get you to the edge.
Star Wars Rebels season 3 kicks off with a one-hour premiere titled "Steps Into the Shadow" this Saturday, September 24 at 8:30 PM on Disney XD.
As Kanan deals with the aftermath of his encounter with Maul, Ezra is tasked with leading rebel missions seeking ships, supplies and new recruits eager to join the cause. With the pursuing forces of the Empire now under the direction of the cunning Grand Admiral Thrawn, the rebels must take greater risks, forge unlikely alliances and face foes from past in their efforts to support the growing rebellion.
Let by a more powerful Ezra, the rebels break an old friend out of prison to help acquire ships for the fleet, but Kanan discovers that Ezra's new skills come from a dark place when "Star Wars Rebels" returns this SATURDAY, SEPTEMBER 24 (8:30 p.m., ET/PT) on Disney XD.