Antoine Fuqua Returning To Direct 'The Equalizer 2'; Filming To Begin Next Year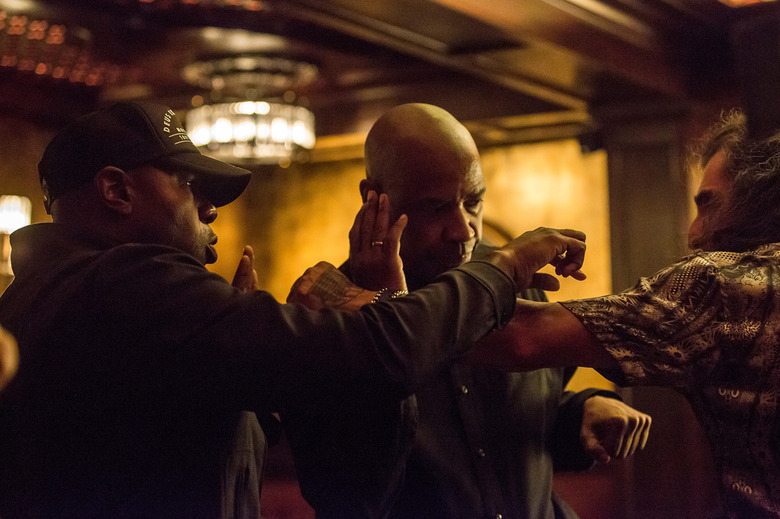 Denzel Washington is starring in the first sequel of his career with The Equalizer 2. Washington was doing just great without a franchise, but he found a potentially good one in Sony's remake of the 1980s CBS television show. Months before The Equalizer came out, the studio got the ball rolling on a follow-up film, tapping the original film's screenwriter Richard Wenk to pen the sequel. Initially, it wasn't known if director Antoine Fuqua (The Magnificent Seven) would come back to the director's chair, but Fuqua is indeed returning for The Equalizer 2.
Below, learn more about The Equalizer 2 director.
Collider recently spoke with producer Todd Black for Fuqua's The Magnificent Seven remake. During their Q & A, Black told the outlet the director is making The Equalizer sequel, but he won't start filming it until around Labor Day next year:
The script is done. We start shooting right after Labor Day, maybe right before Labor Day depending on Denzel's schedule. So Equalizer 2 will start shooting in September of next year, maybe earlier depending on another movie that we're shooting with Denzel before that. We're going to do a little bit more work and we're going to go into casting right after that for his nemesis.
This schedule means Fuqua, Washington, and Black will be shooting the film around the time of the September 2017 release date Sony had originally planned for The Equalizer 2, so we'll probably learn about a new release date in the near future. Black wouldn't divulge any plot details, but he did add that Fuqua and all involved are toying with the idea of releasing the sequel in IMAX:
We talked a lot about the IMAX format for [The Magnificent Seven]. It's expensive. Antoine wasn't quite comfortable with that, nor were the studios. We did talk about it a lot. We continue to talk about it for Equalizer 2. He has a whole thing that he's planning on Equalizer 2 with this new effect that he's doing, which I can't talk about, but it's frickin' so cool you won't believe it.
Fuqua and Washington have proven to be a strong pairing with Training Day and The Equalizer, and we'll see how their latest collaboration, The Magnificent Seven, turned out this weekend. Whether Fuqua and Washington will be joined by any of The Equalizer's other actors is unconfirmed, but for now, at least we know Fuqua is back. The Equalizer has its faults — it's a bit bloated, especially the second act — but Fuqua elevated the thriller with his sleek and typically unflinching style. He often makes surprisingly brutal, R-rated studio movies, and it's good to know he'll soon make another one with The Equalizer 2.