'The Walking Dead' Season 7 Trailer: Welcome To Ezekiel's Kingdom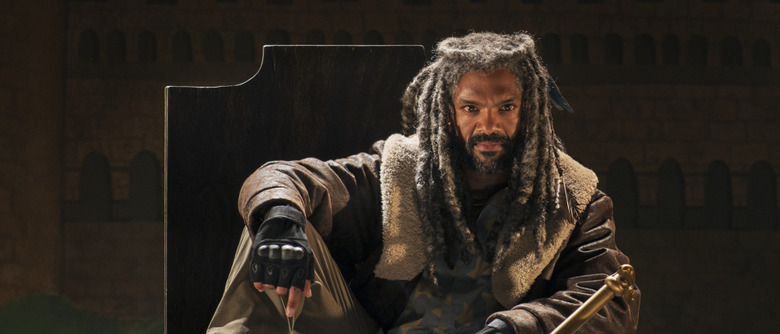 So much of the promotion for The Walking Dead season 7 has centered around Negan — who he is, how he'll shake things up, what really happened when he swung his trusty bat in the season 6 finale. But he's not the only reason to look forward to the next run of episodes. The latest Walking Dead season 7 trailer shifts the spotlight to new character Ezekiel (Khary Payton), leader of the Kingdom and best friend to an adorable yet intimidating tiger named Shiva. Morgan (Lennie James) gets quite a bit of screentime too. Check it out below. 
At the Walking Dead Comic-Con panel this summer, producer Scott Gimple acknowledged that the show's version of Ezekiel may look a little different from the comic book character fans know and love. "He's a bit younger than Ezekiel is in the book, a bit more svelte," he said. "But [Khary Payton] came in and owned it, and the most important thing is, when I showed his audition to Robert [Kirkman], Robert went bananas."
His storyline will be a bit different, too. "I think from season one, the goal was always to use the comic as a road map, but never make it so that if you read the comic, you would be bored in the show," said producer Dave Alpert at the Comic-Con press conference. "This season and the plan to come is very much the same in the sense that we're going to be hitting a lot of the milestones that those of you who are familiar with the comic will recognize. Ezekiel coming is a big thing. Having Shiva, that's a big thing. That's not going to play out exactly the same as it did in the comic. There'll be a lot of swerves. There'll be things that you don't expect."
One element from the comics you can expect to see in the show is Shiva. But the TV version of that majestic tiger will be made entirely out of CG wizardry. "Gale [Anne Hurd] pointed out that it's not particularly humane to have a live tiger on set, and is also very dangerous for the actors," said Kirkman. "So there's no real tiger involved. It's all magic."
The Walking Dead season 7 premieres Sunday, October 23 at 9/8c on AMC.