'Smurfs: The Lost Village' Teaser Trailer: The Little Blue Creatures Return For A Fully Animated Adventure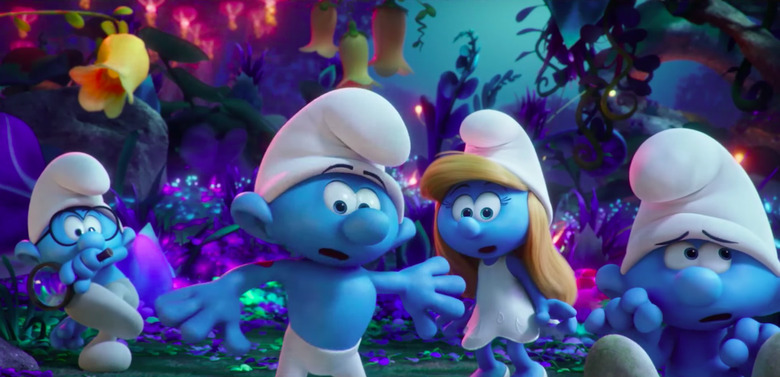 The Smurfs and The Smurfs 2 were box office hits, if not exactly critical darlings, but the tiny blue creatures are headed in a different direction for their next big screen outing. Smurfs: The Lost Village is ditching the live-action component of the last two films, and instead will be a fully animated CG adventure about Smurfette (voiced by Demi Lovato) setting out to find her purpose in life.Joe Manganiello, Jack McBrayer, and Danny Pudi voice three of the boy Smurfs who join Smurfette on her adventure, Rainn Wilson voices the evil Gargamel, and Mandy Patinkin is Papa Smurf. Watch the Smurfs: The Lost Village teaser trailer, plus an international teaser trailer, below.
The Smurfs: The Lost Village trailer still looks like it'll appeal to kids more than adults, but the Smurfs look far less obnoxious now that they're out of the real world. There are no more strained pop culture references, or attempts to sound edgy by replacing every bad word with "smurf." And the Lost Village looks quite pretty, colorful and mysterious and full of dangerous plants that might eat you up and spit you back out. It's much closer to the fanciful aesthetic that we grew up seeing as kids. These are just brief teaser trailers, so it's tough to read too much into them, but from here they look like a promising step in the right direction for the franchise.
Directed by Kelly Asbury, Smurfs: The Lost Village is in theaters April 7, 2017.
In this fully animated, all-new take on the Smurfs, a mysterious map sets Smurfette and her best friends Brainy, Clumsy and Hefty on an exciting and thrilling race through the Forbidden Forest filled with magical creatures to find a mysterious lost village before the evil wizard Gargamel does. Embarking on a rollercoaster journey full of action and danger, the Smurfs are on a course that leads to the discovery of the biggest secret in Smurf history!