'Allied' Trailer: Brad Pitt's New Movie Looks Like 'Mr. & Mrs. Smith' As A World War II Drama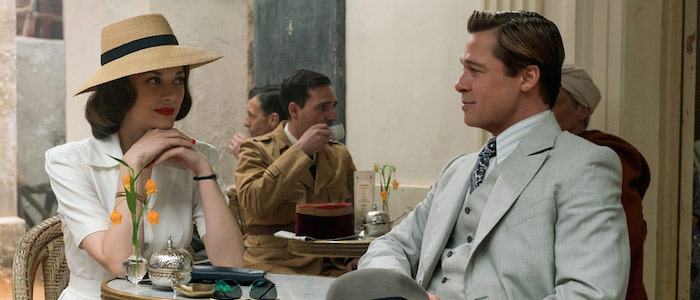 Unless you've spent the entire day sleeping under a rock at the bottom of the ocean, you've probably heard that Brad Pitt and Angelina Jolie are over. And unless you've also spent the past decade-plus sleeping under that same rock, you probably recall that rumors about that relationship first began around the release of Mr. & Mrs. Smith. Anyway, on a completely unrelated note, Paramount has dropped a new spot for their upcoming film Allied, a spy thriller starring Pitt that basically looks like Mr. & Mrs. Smith as a World War II drama. Watch the Allied trailer below. 
Allied Spot
Naturally, Paramount stringently denies that the timing of the trailer drop has anything to do with today's celebrity gossip bombshell. According to the studio, they've "long" planned to air the spot during tonight's premiere of This Is Us on NBC. And yeah, it'd probably be crass of them to capitalize on gossip and rumors to market their new movie. But it'd also be kind of freakin' brilliant.
Allied was always bound to get a lot of attention, given that it features two gorgeous A-listers at the top of their game (Pitt and Marion Cotillard) and is directed by Robert Zemeckis. But now it gets to be part of an ongoing tabloid drama that's going to be downright inescapable for months to come. Hey, it worked for Mr. & Mrs. Smith, which went on to gross over four times its budget at the box office, in no small part because audiences were curious about those rumors surrounding Pitt and Jolie.
Oh, and as for the movie itself, it stars Pitt and Cotillard as spies assigned to work together during World War II. They're to pose as husband and wife, but begin to fall in love for real because of course, they do. Later, though, they reunite in London only to find the war threatening to tear their relationship apart. It sounds dramatic and exciting and potentially very romantic, and the release date (November 23) suggests Paramount would like it to be considered an awards contender. It looks worth keeping on your radar no matter what's going on with Pitt's love life.