When Dory Met Frozen's Princess Anna: Watch Ellen And Kristen Bell Act Out A Pixar/Disney Crossover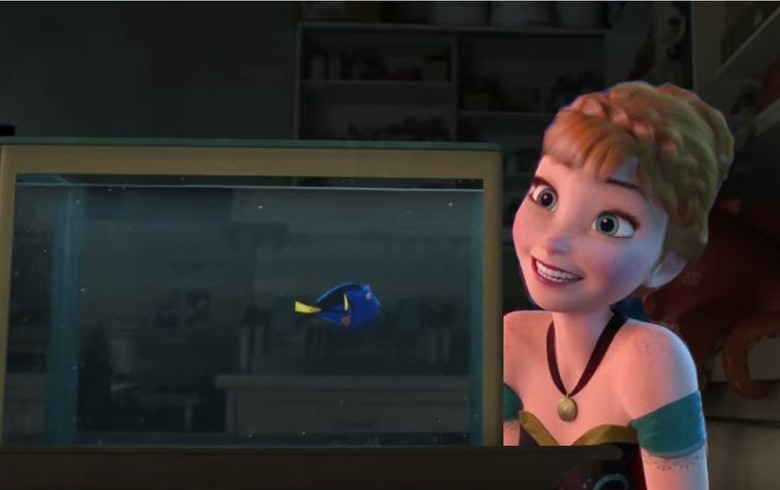 A couple of weeks ago, Tom Hanks appeared on Ellen where he and host Ellen DeGeneres performed a scene imagining what it would be like if Woody from Toy Story met Dory from Finding Nemo. It looks like this is becoming a regular bit on the Ellen show as this week Kristen Bell appeared to promote her new television series and was roped into imagining what it would be like if Frozen's Princess Anna met Dory in the first Pixar/Walt Disney Animation Studios crossover. Watch the video clip now after the jump.
Dory Meets Princess Anna from Frozen
This one is a bit bumpier, obviously lacking the writing of the brilliant Disney and Pixar story teams. But you can get a sense of just how much Ellen DeGeneres and Kristen Bell have absorbed themselves into their characters over the years. I know Ethan mentioned this in his previous posting, but it would be fun to see our favorite Pixar and Disney characters interact with each other side by side somewhere. If not a movie or television special, then maybe a theme park ride of some kind.
When I was younger, I had an idea for a film which would have been like Who Framed Roger Rabbit? in that it would involve cartoon characters in the real world. The pitch was that computer animation was taking over and the hand-drawn characters and Muppets were in danger of being forgotten. The story would have been an Avengers-style getting the team together journey which would have spanned many worlds and featuring many of our beloved Disney and Pixar characters. Of course, a movie like this would probably never get made for a variety of reasons, but I think now that we're living in a world filled with connected cinematic universes the idea of seeing some of these franchises collide could be interesting, or horrible.