Tom Cruise Will Return For 'Mission: Impossible 6'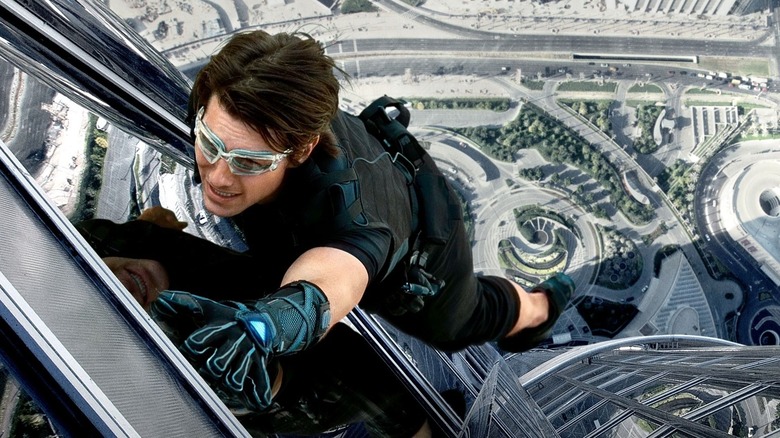 Last month we heard that Tom Cruise was holding up Mission: Impossible 6 over a dispute with studio Paramount Pictures over pay. But today it was revealed that Cruise has signed a deal to return as Ethan Hunt for a sixth mission. Find out the details after the jump.
Paramount has apparently been balking at the fees that Cruise and producers Bad Robot and Skydance were asking for, and is trying to convince them to cut them down. The studio wanted to give Cruise around what he made for Rogue Nation, while Cruise wanted a salary more in line with his bigger payday for Universal's The Mummy. The contentious deal-making halted the pre-production of the film, which was scheduled to begin shooting next year.
THR has learned that Tom Cruise has signed on to return for Mission: Impossible 6 and that the film will now begin production in Spring 2017. No word on if Cruise got the backend money he was reportedly fighting for, but whatever the case, the movie is once again happening.
We don't know much about Mission: Impossible 6, but here is what we do know:
Rogue Nation writer/director Christopher McQuarrie is back for the sixth mission.
Mission: Impossible 6 is still in the early stages of development with work underway on a screenplay.
Paramount has hired a handful of people in London to start designing the visual effects.
Swedish actress Rebecca Ferguson has signed on to reprise her Mission: Impossible – Rogue Nation role of Ilsa Faust.
McQuarrie has hinted that the new film will have a different style than Rogue Nation.
Cruise will again be producing along with David Ellison and Dana Goldberg at Skydance Productions and J.J. Abrams at Bad Robot.
Paramount has not announced a release date for Mission: Impossible 6, but we're probably looking at Spring 2018 at earliest. The Mission: Impossible films have typically opened as Summer tentpole movies, with Ghost Protocol being the only outlier with a Holiday release.