'Death Note' Remake Promises Nudity, Swearing, And "A Ton Of Violence"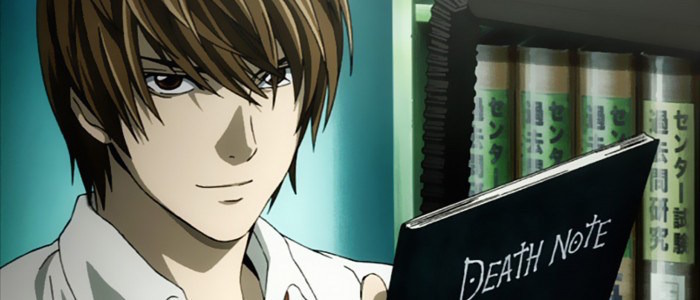 Now that he's successfully resurrected the Blair Witch franchise, filmmaker Adam Wingard is preparing to tackle another beloved genre property. His next movie is Death Note, a live-action adaptation of the hit manga series (and subsequent anime adaptation). But according to Wingard, this one will be less Blair Witch than The Guest, at least in terms of tone.
Speaking about his upcoming project in an interview, Wingard teased a return to "something kind of weird" for Death Note, promising nudity, swearing, and "a ton of violence." 
Collider caught up with Wingard during the Blair Witch press tour, and seized the opportunity to talk about Death Note. Fans of Wingard's who were mildly disappointed to see him take on Blair Witch may be pleased to hear that Death Note will veer a little less mainstream. Said the director:
Blair Witch is very much a mainstream horror film, and I think Death Note's a return for me to go back to doing something kind of weird. It's more along the tone of The Guest but something completely different. It's kind of a genre mashup in a lot of ways, too, there's lots of different types of movies within the movie itself, so it's going to be a fun, crazy movie.
Death Note hit a speed bump earlier this year when Warner Bros. kicked it to the curb, but fortunately, Netflix was there to scoop it up. In fact, the switch in distributors may turn out to be a blessing in disguise, since Netflix allows so much freedom. Wingard promised Death Note would go hard:
We can do whatever we want. And that was the cool thing about it, because it's an anime film, so, technically, it's a cartoon that you're bring to life. To me, the thing about anime is that it's so adult-oriented. I remember going to Suncoast growing up and you see Akira there with the little "Not for Kids" sticker on it. That always made an impact on me. So, doing my first live-action anime thing, to me it was important that you have those adult themes. So, it's got nudity, it's got swearing, it's got a ton of violence. Jason Eisener, who did Hobo with a Shotgun. I brought him on -– I'm good friends with him –- as second-unit director. There's basically like three good Jason Eisner short films in there and they're all very gory. I was able to just turn him loose sometimes, and just do some crazy stuff. With the combined efforts, I think we ended up with a really nasty and crazy film.
Death Note has a pretty twisted premise, so it's nice to hear Wingard and his team won't have to pull their punches. The story centers around a student who stumbles across a supernatural notebook that lets him kill anyone in the world, just by writing down their name and picturing their face. He uses this power to cleanse the world of people he deems unworthy, but as the bodies pile up he is pursued by a brilliant young detective investigating the cases.
As previously reported, Nat Wolff plays the student and Willem Dafoe voices the death god who unleashes the notebook in the first place. Keith Stanfield, Margaret Qualley, Paul Nakauchi, and Shea Whigham also star. Netflix has not announced a release date but we can probably expect to see Death Note sometime in 2017.