'Pacific Rim 2' Casts Newcomer Cailee Spaeny As Female Lead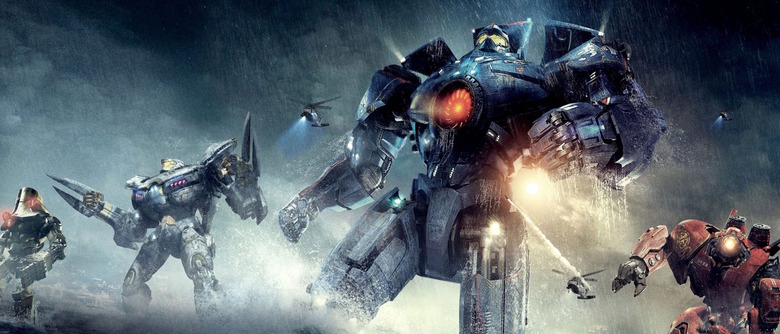 Pacific Rim may be all about robots and monsters, but it still hangs on a human element. In Pacific Rim 2, our species will be represented by John Boyega, Scott Eastwood, and now newcomer Cailee Spaeny, who's just been cast as the female lead. Steven S. DeKnight (Netflix's Daredevil) is directing the sequel to Guillermo del Toro's 2013 film. Variety broke the Pacific Rim 2 Cailee Spaeny casting news. We know Boyega, who has the male lead role, will play the son of Stacker Pentecost (Idris Elba's character from the first film), but details on Spaeny's character are still under wraps. Nor do we have a whole lot of information on the plot of the movie, though it seems safe to assume the premise will once again involve giant jaegers battling equally giant kaiju.
The first film starred Charlie Hunnam, Rinko Kikuchi, Idris Elba, Charlie Day, Max Martini, and Robert Kazinsky. Del Toro, who remains on board as a producer, has said that "a lot of the cast from the first movie is coming back," but none of the individuals are confirmed to return just yet. We do know that Hunnam will not reprise his role, due to scheduling conflicts.
Spaeny is a singer and actress. Pacific Rim 2 is her biggest role yet by far — her only previous credits are the indies Counting to 1000 and The Shoes.
Pacific Rim 2 will begin filming this fall in Australia, with additional shooting to be done in China. (Which seems appropriate considering China is the reason Pacific Rim 2 is hapepning at all.) Universal Pictures has the film scheduled to open February 23, 2018 in the U.S. Thomas Tull, Mary Parent, and Jon Jashni are producing along with del Toro, Boyega, and Femi Oguns. Cate Boyter executive produces.
You can learn more about Spaeny through her social media accounts including her Instagram, which you can see below.
Behind the scenes photo from my new music video FALLIN. Big thank you to @lockeandstache for making it happen! I can't wait for you guys to see it. Check out my show tonight for the @mysteryhour at the @gillioztheatre Time: 7 Tickets: $10 Photo cred: @will_i_am_stone
A photo posted by Cailee Spaeny (@caileespaeny) on