IMAX VR Will Let You Experience Worlds Of Movies Like 'Star Wars' After Seeing The Film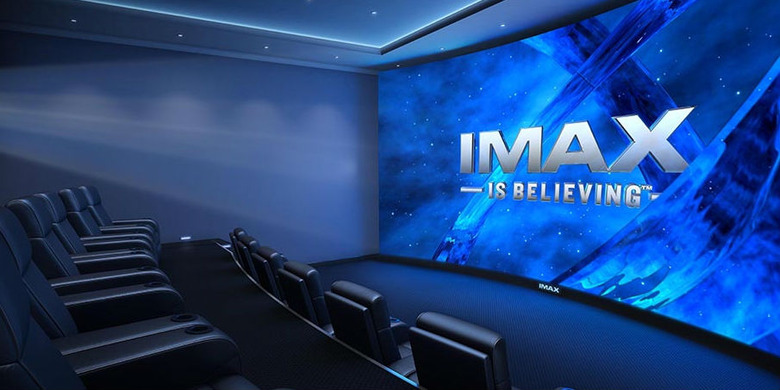 While filmmaking legend Steven Spielberg may think that virtual reality technology could be dangerous to filmmaking and storytelling, other directors and movie studios are jumping on board. Earlier this summer, IMAX revealed plans to create IMAX VR theaters. Now IMAX Entertainment head Greg Foster is revealing new details about what they believe might be the next step in immersive storytelling.
Foster revealed the details while speaking at the Bank of America Merrill Lynch Media, Communications & Entertainment Conference in Los Angeles (via THR):
Six pilot VR locations will open at end of 2016 at your local multiplex.
Moviegoers will be able to put on VR glasses and view the immersive cinema-like VR experiences.
He used Star Wars as an example, saying that moviegoers could experience them in the same complex they view Star Wars: Episode VIII.
The VR experiences will be "six- to nine-minute content stories, fully separate and you buy that ticket as well or buy it bundled with the IMAX movie presentation" of a film.
The first IMAX VR location is set to be Los Angeles, although the exact location was not stated. I would assume that it would be set up at the TCL IMAX Theatre as that is their signature Hollywood location, although Universal Citywalk gets much more traffic and the tourist crowd would probably be a better fit for this kind of offering.
They expect to open future VR theaters in China in conjunction with their IMAX locations.
The plan is to "grow them as fast as we can."
No word on if Star Wars will be involved in these VR experiences, but I would bet on it. Remember, Disney has a huge deal with IMAX, and the company's ILMxLab is working on a line-up of Star Wars VR stories (like the one they announced this year by writer/director David Goyer focusing on Darth Vader). It seems like an obvious fit. Also remember that he said that the first six IMAX VR theaters will launch later this year, which means they will probably be tied to an IMAX release from the holiday season. Here are the big options:
Doctor Strange: An IMAX 3D Experience, IMAX Corporation, Walt Disney
Fantastic Beasts and Where to Find Them: The IMAX Experience, IMAX Corporation, Warner Bros.
Rogue One: An IMAX 3D Experience, IMAX Corporation, Walt Disney
Doctor Strange could be interesting, transporting us to the unreal psychedelic interdimensional worlds in the film. And Fantastic Beasts could put these crazy Wizarding World creatures all around us. But we already know ILMxLab is working on a Virtual Reality experience for Rogue One, so that seems like a no-brainer.
The question is, will moviegoers who are already paying a premium ticket price, which is often more than an expensive 3D movie ticket, be willing to pay an upcharge of $7-10 to experience a VR story tied to the movie? A ticket at the TCL IMAX in Hollywood runs $21.75. Adding a VR experience to this would probably bring the ticket up to somewhere around $30, and that's before paying for popcorn, soda, and parking. I'm just not sure that moviegoers are willing to pay that much more, and for an experience that many people will soon be experiencing at home with the new Sony Playstation video game system.
We live in a day and age where arcades struggle to exist outside of new social experiences like Barcade. The arcade games can rarely compete with what consumers can experience in the comfort of their homes. For the same consumer to want to pay money for a VR experience in a theater, I would think it would have to provide something that would be far and above anything available on a VR home console experience.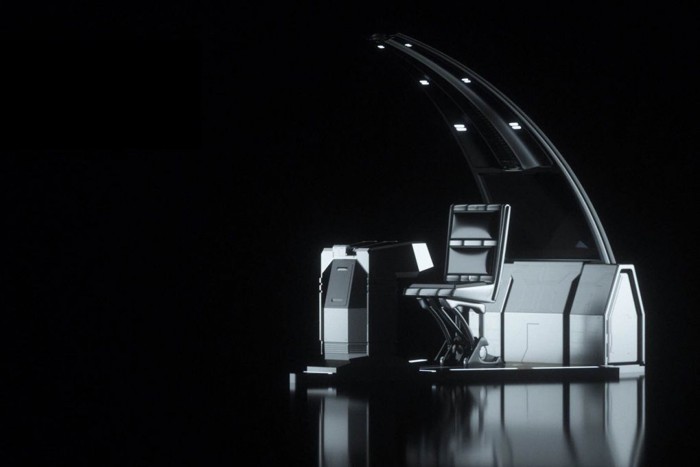 But let's assume for a minute that the content is so good that you'll want to experience it after seeing a movie. I wonder what the set-up will consist of. I can't imagine hundreds of people exiting a movie with the bottleneck of one VR pod. Even if there is a room with many pods, I can't imagine it could accommodate more than 5% of an IMAX crowd on opening weekend.
The above photo is a pod that an unrelated company called VR Rocketship is planning to install in the lobbies of movie theater multiplexes nationwide. That company has plans to charge $1 a minute for the experiences.